In the dynamic landscape of financial services, acquiring quick and efficient loans has become a pressing necessity for many individuals. In response to this demand, Creditify Loan Philippines has emerged as a reputable loan comparison service, providing an excellent solution for those seeking financial assistance in the Philippines. Through its platform, Creditify facilitates safe and effortless access to loans of up to PHP 25,000, connecting borrowers with various lenders in the market.
In this review, CashLoanPH aims to delve deeper into the essential aspects of Creditify Philippines, offering valuable insights into its features, application process, legal status, user experiences, and the significance of responsible borrowing.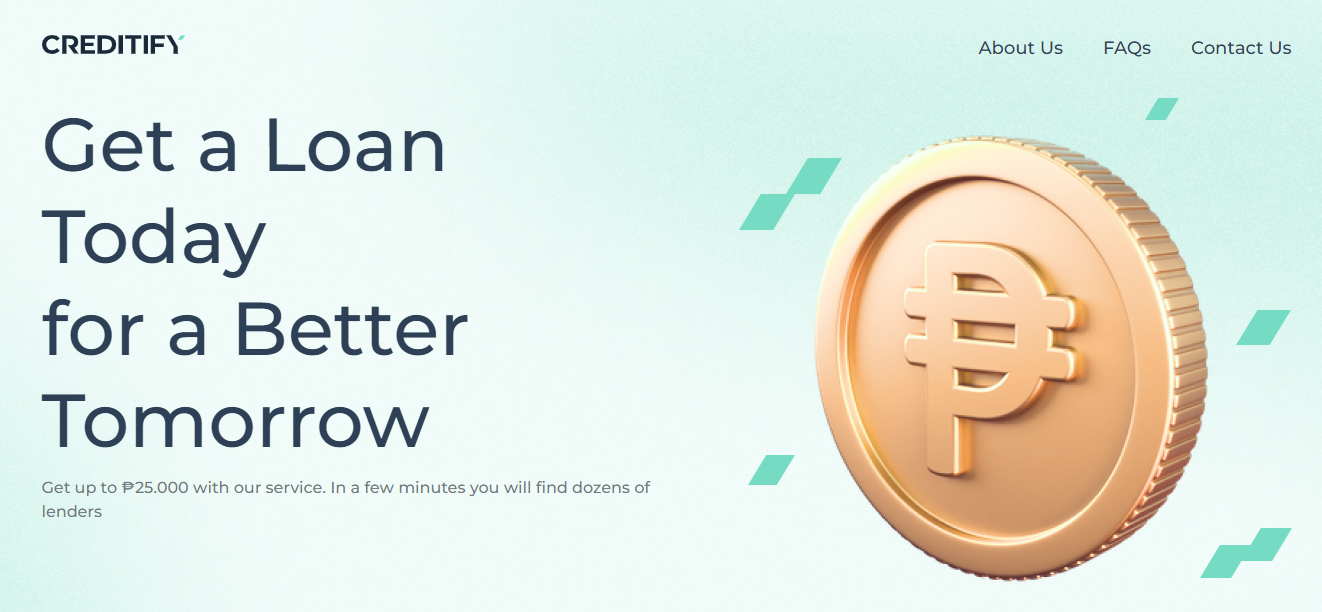 Creditify Info
Creditify Philippines operates as a reliable and transparent comparison service, empowering borrowers to access loans of up to PHP 25,000 with a flexible repayment period of 30 days. The interest rates offered by lenders vary, allowing borrowers to select the most suitable option that aligns with their unique financial needs. To be eligible for Creditify's services, applicants must be at least 21 years old and possess Filipino citizenship. The documentation requirements are straightforward, with a major valid ID serving as the primary document for verification.
One of Creditify's prominent strengths is its commitment to transparency. The platform allows users to make secure comparisons of various loan options, ensuring they can confidently choose the best-suited lender for their requirements. While Creditify endeavors to partner with legal and reputable lenders, borrowers are encouraged to independently verify all information and terms presented on the platform. Furthermore, the review emphasizes the vital importance of responsible borrowing, urging borrowers to carefully assess their repayment capacity and thoroughly understand the terms and conditions before proceeding with a loan from their chosen lender. Creditify functions as a facilitator, providing valuable connections between borrowers and lenders, but the ultimate responsibility lies with the borrowers.
Creditify Philippines & How To Apply For A Loan
Creditify Philippines prides itself on providing a user-friendly and convenient application process for prospective borrowers. To get started, applicants are required to fill out a brief application form, providing essential details such as their phone number. This initial step typically takes no more than two minutes to complete, streamlining the process for borrowers with time-sensitive financial needs. Once the application form is submitted, Creditify's platform efficiently conducts a comprehensive comparison of multiple lenders, meticulously evaluating their respective terms and conditions.
The heart of the process lies in the borrowers' ability to compare and choose the most suitable loan offer from a curated list of lenders. Creditify's platform ensures that users have access to accurate and up-to-date information to make informed decisions. Once a borrower selects a lender, they are directed to complete the lender's application form, where they provide the necessary details and information required for loan processing.
Upon approval of the loan application, the requested funds are swiftly transferred to the borrower's designated account, typically within a short timeframe of approximately 15 minutes. It is essential for borrowers to prioritize timely repayment of the loan to avoid potential penalties and foster a healthy financial relationship with the lender.
Creditify Contacts
In the event that users require assistance or have any inquiries, Creditify Philippines can be reached via email. The company's contact information is as follows:
FAQ About Creditify Loan
To address common queries and concerns, Creditify provides a comprehensive FAQ section, offering valuable information to potential borrowers:
How to apply for a short-term loan online? What are the main requirements?
Creditify guides applicants on how to apply for a short-term loan through various online lenders, including Digido, Finbro, Moneycat, Cashxpress, and Tala, among others. The review highlights the importance of being employed or having a predictable source of income as a primary requirement. Additionally, applicants must be at least 18 years old, though being 21 years or older is preferable. A valid email address, work phone number, home phone number, and a major valid ID are also essential documents.
How much can you borrow with lenders in the Philippines?
Creditify emphasizes that lenders in the Philippines typically offer loan amounts ranging from PHP 10,000 to PHP 25,000. In certain cases, depending on the lender's policies, borrowers may have access to higher loan amounts.
Can you get a loan with a bad credit history?
The review provides valuable insights into the possibility of obtaining a loan despite having a less-than-ideal credit history. However, borrowers are encouraged to reflect on their financial situation and consider ways to improve it before applying for an unsecured loan.
When and how can you repay the loan?
Creditify highlights that borrowers in the Philippines have multiple options for loan repayment, including e-wallets, credit cards, bank invoices, and more. Specific details regarding loan repayment are communicated by the lender.
What happens if you are unable to repay the loan on time?
Creditify emphasizes the potential consequences of missing loan repayments, such as incurring penalties and negatively impacting one's credit score. Borrowers are advised not to apply for a loan unless they are confident in their ability to meet the repayment terms.
Is Creditify Loan a Legal Company?
To provide clarity on its legal status, Creditify Philippines asserts that comparison services such as theirs do not require additional licenses to operate. The review underscores the importance of considering alternative options during financial difficulties and emphasizes that Creditify is not a lender, nor does it make credit decisions. The platform serves as a connecting bridge between borrowers and approved lenders and lending partners. Creditify assumes no control or endorsement over the actions of any lender or lending partner.
Moreover, Creditify emphasizes that its services are offered to users entirely free of charge, with the company receiving compensation from lenders and lending partners. Users are encouraged to review the authorization and sharing of information policies, wherein by submitting their data on the Creditify website, they authorize the platform to perform credit checks and share their information with the network of lenders.
Lender's or Lending Partner's Disclosure of Terms
To ensure transparency and informed decision-making, Creditify emphasizes the significance of reviewing loan documents provided by lenders and lending partners. These documents contain comprehensive information on loan fees, interest rates, and potential charges for late payments. The review underscores that loan fees and interest rates are solely determined by the lender or lending partner, in accordance with their internal policies and applicable laws. Creditify reiterates that it has no control over the loan terms offered by lenders.
What Should You Know About Late Payments and Your Credit Score
Creditify stresses the importance of being responsible borrowers to safeguard their credit history. Missing or making late payments can have adverse implications for borrowers' credit scores, potentially affecting their future financial prospects. The review urges borrowers to carefully consider their financial situation before accepting loan terms, ensuring that they can comfortably meet the repayment obligations.
In case borrowers anticipate difficulties in making timely payments, Creditify advises prompt communication with lenders and lending partners. Openly discussing the situation and exploring potential solutions for handling late payments can contribute to a healthier financial relationship with the lender.
Creditify Reviews
Feedback and user experiences play a crucial role in shaping the reputation and credibility of any service. Recognizing this, Creditify values user opinions and encourages borrowers to share their experiences and write reviews about their interaction with the platform. Transparent user reviews offer valuable insights to both potential borrowers and Creditify, aiding in improving their services. As part of its commitment to transparency, Creditify highly values the opinions and experiences shared by users. Furthermore, borrowers who have utilized Creditify's services are urged to share their feedback, thereby contributing to a more informed decision-making process for others seeking financial assistance.
Conclusion
In the realm of online loan comparison services, Creditify Philippines stands as a reliable and efficient platform, committed to providing borrowers with swift and secure access to loans. The platform's user-friendly application process, extensive network of lenders, and transparent approach have garnered trust among its users. As the review reiterates, Creditify serves as a facilitator, enabling borrowers to make informed choices from a variety of loan options. However, the ultimate responsibility of responsible borrowing lies with the borrowers themselves.
Creditify Philippines goes beyond merely connecting borrowers with lenders; it strives to empower borrowers to make prudent financial decisions by offering transparent information and emphasizing the significance of responsible borrowing. By adhering to these principles, Creditify ensures that borrowers have a positive and productive borrowing experience. As the financial landscape continues to evolve, Creditify remains committed to maintaining its reputation as a trusted loan comparison service, making a positive impact on the financial well-being of its users in the Philippines.