In the vast landscape of financial services, access to reliable and flexible loan options can be the key to navigating unforeseen expenses and pursuing important life goals. Skyro Philippines, formerly known as Monery, stands out as a trusted digital financial services provider committed to empowering the Filipino community with innovative and accessible financial solutions.
In this review, CashLoanPH will delve into the various facets of Skyro's loan services, covering loan information, the seamless online application process, loan management tools through their user-friendly app, and essential tips to increase your chances of loan approval. By the end of this review, you will have a clear understanding of why Skyro is a go-to platform for securing timely financial assistance in the Philippines.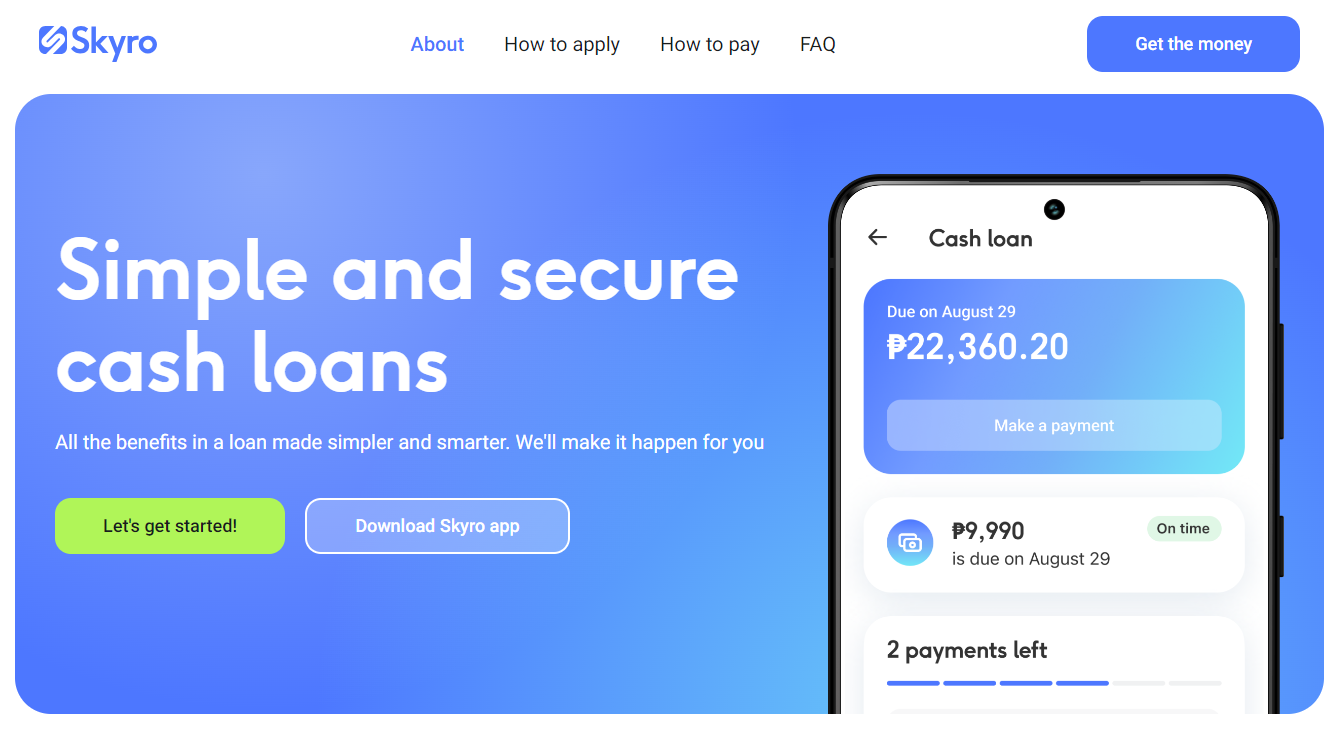 Skyro Loan Info
Skyro caters to the diverse financial needs of Filipinos, offering cash loans ranging from PHP 5,000 to PHP 250,000. Flexibility is a hallmark of their services, and borrowers can choose loan periods of 6, 9, or 12 months, tailoring their borrowing experience to match their specific circumstances. The interest rates are competitive, ranging from 1.50% to 7.00% per month, ensuring affordability for borrowers from all walks of life.
To ensure transparent loan processing, Skyro imposes an origination fee, amounting to 16.6% of the approved loan amount, capped at PHP 5,000. Additionally, a nominal transaction fee of PHP 25 is levied. Borrowers must be vigilant about timely repayments to avoid incurring late fees, which are calculated at up to PHP 500 or 5% of the disbursement amount, whichever is lower. An extra fee, varying from PHP 10 to PHP 25, may be applicable in certain scenarios.
Eligibility and Application Process
Skyro prides itself on a simple and accessible application process. To be eligible, applicants must be Filipino citizens between the ages of 18 and 70. The service is available to residents of Metro Manila and selected provinces, including Batangas, Bulacan, Rizal, Cavite, Laguna, and Cebu. Collateral is not required, streamlining the application procedure.
The digital age has enabled Skyro to offer a seamless online application process, making loan acquisition more convenient than ever. Aspiring borrowers can visit the official Skyro website (https://www.skyro.ph) to initiate the application. Within minutes, applicants can choose their desired loan amount and term, with 6, 9, or 12 months as available options. The swift and user-friendly interface ensures that the application is completed effortlessly.
Once the application is submitted, Skyro's team promptly reviews it within 1 to 3 days. If the application meets the necessary criteria and is approved, borrowers are requested to schedule a meeting with a Skyro representative. This meeting serves as an opportunity to sign the loan documents, finalize the process, and get a comprehensive understanding of the loan's terms and conditions.
Accessing Your Loan and Payment Details
At the crucial stage of meeting with a Skyro representative, borrowers gain valuable insights into their loan and payment details. This interaction ensures that borrowers are well-informed about their obligations, alleviating any potential confusion. With a strong emphasis on transparency, Skyro endeavors to provide comprehensive information that empowers borrowers to make informed financial decisions.
To enable borrowers to stay updated on their loan progress and repayment schedules, Skyro offers a user-friendly mobile app. This app serves as a convenient platform for accessing all relevant loan information. From tracking the status of the loan to monitoring repayment schedules and payment history, the app puts borrowers in the driver's seat of their financial journey. The app's intuitive design ensures a seamless and hassle-free user experience.
Timely Payments Made Easy with Skyro Loan
Skyro understands the importance of timely loan repayments and has implemented an efficient system to facilitate it. The due date for loan repayments is typically aligned with the disbursement date of the loan, ensuring clarity and simplicity for borrowers. For instance, if a borrower receives their loan on June 21, the initial due date will fall on July 21, and subsequent due dates will follow accordingly.
Skyro takes into account the end-of-month scenarios, such as disbursement on the 30th or 31st, by setting subsequent due dates on the 1st of the following month. In February, if the disbursement date is on the 29th, the due date will be on the 28th. To provide an extra layer of support, the Skyro app sends SMS notifications as the due date approaches, ensuring borrowers are well-informed and prepared.
To avoid any delays in processing, borrowers are encouraged to make repayments 3 to 5 days in advance, especially when using alternative payment channels. This practice accounts for any potential delays that may arise while transferring funds from the borrower's chosen payment channel to Skyro's system.
Seamless Loan Management With Skyro App
The Skyro mobile app is a cornerstone of the Skyro experience, offering a plethora of features to facilitate seamless loan management. Designed for both iOS and Android users, the app provides a clean and intuitive interface, ensuring that borrowers can effortlessly access crucial loan information.
One of the most valuable features of the app is the free reminder notifications, which serve as handy prompts to keep borrowers aware of upcoming due dates. With this assistance, borrowers can avoid missing payments and maintain a healthy repayment record.
Skyro has partnered with a wide array of payment channels, including online banks (BDO, Tonik, BPI, and more), e-wallets (Coins.ph, GCash, GrabPay, Maya, etc.), and over-the-counter options (ExpressPay, Cebuana, Posible, The SM Store, TrueMoney, CLiQQ, M Lhuillier, 7-11, Bayad Center, Palawan Pawnshop, etc.). This diverse range of payment channels enables borrowers to choose the most convenient method for them, ensuring a hassle-free repayment process.
Repay Loan in Time With The Next Partners
Skyro recognizes the importance of offering multiple payment options to suit the varied preferences of their borrowers. To enable seamless repayments, Skyro has partnered with several reputable banks and e-wallet providers. Borrowers have the flexibility to repay their loans through online banks such as BDO, Tonik, BPI, Land Bank, Metrobank, RCBC, and UnionBank. E-wallets like Coins.ph, GCash, GrabPay, and Maya are also valid options for loan repayment.
For borrowers who prefer over-the-counter payment methods, Skyro has partnered with several trusted outlets, including ExpressPay, Cebuana, Posible, The SM Store, TrueMoney, CLiQQ, M Lhuillier, 7-11, Bayad Center, Palawan Pawnshop, among others.
To ensure a smooth and secure repayment process through over-the-counter outlets, borrowers are required to generate a payment code via the Skyro mobile app. This code is then presented to the cashier at the chosen outlet, facilitating the payment transaction. It is important to note that each generated code is valid for 24 hours, after which a new code must be generated if needed.
Skyro further enhances the borrower's convenience by exempting certain online banks, such as BDO, BPI, and UnionBank, from transaction fees. However, borrowers should be aware that payment processing may take up to 48 hours, depending on the selected payment channel, before the funds are transferred to the lender.
Skyro Loan Contacts
To provide exceptional customer support and address any concerns, Skyro operates under the umbrella of Advanced Finance Solutions, Inc., and Jungle Lending, Inc. Borrowers can reach out to Skyro through multiple contact points:
FAQ About Skyro Loan Philippines
Is Skyro Loan Philippines a Legit Company?
The legitimacy of Skyro Philippines is beyond reproach, as both parent companies, Advanced Finance Solutions, Inc., and Jungle Lending, Inc., have been certified by the SEC Philippines.
Advanced Finance Solutions, Inc. is registered under Registration No.: 2022080063542‑00, with License No.: F‑22‑0029‑37. Its address is 20F Cyber Sigma, Lawton Avenue, Bonifacio South, Taguig City, 1637 Metro Manila.
On the other hand, Jungle Lending, Inc. is registered under Registration No.: CS202002223, with License No.: 3249, and its address is 3006 30F, One Corporate Center, Meralco Avenue corner Julia Vargas Avenue, San Antonio, Pasig City, 1605 Metro Manila.
Both companies operate under the brand name Skyro Philippines, cementing their authenticity and credibility in the financial market.
What Are The Best Alternatives To Skyro Loan?
While Skyro remains a top choice for many Filipinos, it's essential to explore alternative loan providers. Some of the notable alternatives include Tonik Loan, Digido, and Finbro. Each of these services offers unique features and benefits, making it crucial for borrowers to compare and choose the one that best aligns with their individual needs.
What Documents You Can Use For Applying for Your Loan?
To initiate the loan application, Skyro requires a single major valid ID. Accepted IDs include the Philippine passport, SSS ID, UMID, PhilSys ID, driver's license, PRC ID, and Postal ID. Ensuring that you possess one of these valid IDs simplifies the application process and expedites loan approval.
What Will Happen If The Borrower Will Not Pay Before The Due Date?
As with any responsible financial service, Skyro adheres to a strict late fee policy to encourage timely repayments. In the event of a missed due date, a late fee of ₱500 or 5% of the disbursement amount (whichever is lower) is applied the following day. Importantly, Skyro does not provide a grace period for late payments, making it crucial for borrowers to honor their repayment commitments promptly.
Why Your Skyro Application Can Be Rejected?
Borrowers must recognize that loan approval is contingent on several factors. In some instances, Skyro may reject an application due to the following reasons:
Incorrect or Incomplete Information: Providing inaccurate or incomplete information during the online application process can lead to application rejection. Accuracy is crucial, and borrowers must carefully review all provided details before submission.
False or Inaccurate Details: Misrepresenting financial information, income, or other relevant details can result in immediate rejection. Skyro employs thorough screening processes to identify and prevent fraudulent applications.
Poor Credit History: Borrowers with a history of overdue loans or a limited credit history may encounter challenges with loan approval. Skyro considers creditworthiness a vital aspect of the loan evaluation process.
High Debt Burden: To safeguard borrowers from excessive financial strain, Skyro assesses debt burdens. If a loan could pose a significant burden, the application may not proceed.
Inactive Phone Number: Effective communication is paramount in the loan approval process. An inactive phone number could impede Skyro's ability to verify information or schedule meetings with their representatives, potentially leading to application rejection.
Failure to Meet with Skyro Representative: Meeting with a Skyro representative is a crucial step in the loan application process. If a borrower is unable to attend the scheduled meeting, Skyro may not proceed with the loan approval.
It is important to remember that if an application is rejected, borrowers can reapply after 30 days. Moreover, exploring alternative loan services may present viable options to address urgent financial needs.
How to Increase Your Chances of Approval
To enhance the likelihood of loan approval, borrowers should be proactive in adhering to the following guidelines:
Provide Accurate Information: The foundation of a successful loan application lies in providing truthful and precise information during the application process. Skyro's Risk Management team thoroughly reviews each application, making accuracy critical.
Include Comprehensive Details: Take the time to furnish comprehensive information when filling out the application form. Rushing through the process may lead to incomplete details and potential application rejection.
Use an Active Mobile Number: Ensure that the mobile number provided during the application process is active and readily accessible. Effective communication is crucial for verification and scheduling purposes.
Be Available for Communication: After submitting the application, remain readily available at the provided mobile number. Skyro may need to contact applicants shortly after submission to clarify information or confirm meetings.
Manage Your Credit History: A borrower's credit history plays a significant role in the loan evaluation process. Managing existing loans and prioritizing timely repayments can enhance creditworthiness and increase the likelihood of loan approval.
By adhering to these guidelines, borrowers can improve their chances of securing a cash loan with Skyro, ensuring timely access to much-needed financial assistance.
Conclusion
Skyro Philippines (formerly Monery) has firmly established itself as a reliable and accessible financial services provider, catering to the financial needs of the Filipino community. With a diverse range of loan options, competitive interest rates, and a seamless online application process, Skyro has earned the trust of many borrowers seeking timely financial assistance.
Through their user-friendly mobile app, Skyro empowers borrowers to stay informed about their loan progress, repayment schedules, and payment history. As borrowers navigate life's financial challenges, Skyro remains committed to transparency and accountability, empowering individuals to make informed financial decisions.
Skyro's partnership with multiple reputable banks, e-wallet providers, and over-the-counter outlets offers borrowers a wide array of payment options, ensuring convenience and accessibility for all.
With the financial landscape continuously evolving, Skyro serves as a guiding beacon, fostering a culture of responsible borrowing and financial empowerment within the Filipino community. Their dedication to providing exceptional customer support further solidifies their position as a leading financial partner in the Philippines.
As you embark on your financial journey, consider Skyro Philippines for your cash loan needs, and experience the peace of mind that comes from partnering with a reliable and innovative financial services provider. Whether it's an urgent expense or an important life goal, Skyro is here to empower you with financial solutions that pave the way to a brighter future.