Kviku flip cash loan Philippines disbursed in 5 minutes with low interest, personal cash loan calculator. 24/7 cash loans online. Application with best cash loan Philippines up to PHP 25 000 for up to 180 days.
| | |
| --- | --- |
| Loan Name | Kviku PH |
| Loan Amount | Up to PHP 25 000 |
| Loan Term | Up to 180 days |
| Contact | [email protected] |
Cash Loans for any Purpose. 100% Online Transaction.
About Kviku
Kviku Lending Co. INC
Address: 18A Trafalgar Plaza, 105 H.V. Dela Costa Street, Salcedo Village Makati City, the Philippines
SEC Registration No. CS201918702. Certificate of Authority No. 3169 NPC Registration No. PIC-001-791-2021
3 Steps To Get A Cash Loan Kviku
Fill in the application form online: All you need to do is fill out our simple application form on the website, take a picture of yourself and your document.
Wait for approval: In a few minutes, you will receive an SMS with a decision on your application.
Receive your money instantly: Your money will be transferred to your bank account within 60 minutes.
Why Choose Kviku Loan?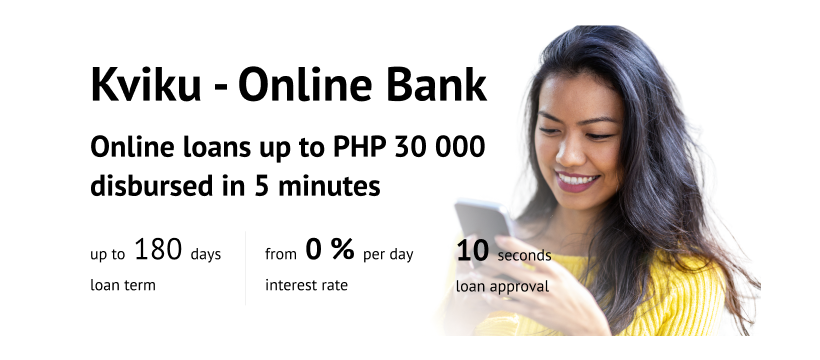 Simple procedures: We minimized all the documents to provide you the easiest way to get the loan.
100% online: No need to visit a branch. You can submit your application form anytime, even after banking hours and during weekends.
24-hour approval: Get your loan approved in as quick as 24 hours and have the cash deposited directly into your bank account.
Cost transparency: No hidden fees and charges. Know exactly how much you are paying from the first step of application.
FAQ Kviku PH
What is the Kviku service?
Kviku is a fully automated online service that grants loans at any time of the day. The human factor is completely excluded, so you can be sure of the objectivity of the decisions being made. The funds are transferred instantly.
How much is the loan online in Kviku?
Kviku offer a loan with a limit of 1,000 to 25,000 PHP and term up to 180 days. With new customers, they applies a policy of 0% interest rate and a maximum loan limit of 5.000 PHP for the first loan.
Is Kviku PH Legit?
Yes, this loan is legit. Kviku Philippines is SEC registered and is certified for this purpose.
What do Kviku online loan require?
You can get a loan if:
You are a Filipino citizen, 20 – 55 years old and have a valid Government ID.
Your mobile phone number is not blocked.
You have registered on the website.
What is an installment loan?
For our Installment loan, you can be approved for a loan of PHP 500 to 25,000, which is payable within 60 days, with a daily interest rate of 0.16%.
What are the Kviku loan terms?
For first time borrowers, you may be approved for a maximum of 60 days.
For repeat borrowers, you may be approved for a maximum of 180 days.
Is it difficult to get a loan in Kviku?
It is not complicated. Simply fill up the online application, enter the loan amount, and select how you want to receive the money. Enter the code will be sent to you via SMS to confirm the contract. Kviku service will transfer the funds to you immediately.
Lend responsibly
Kviku appreciates disciplined and responsible borrowers who make their payments on schedule, so it improves the terms of their contracts. Each new loan will be more advantageous for our clients!
Some useful tips and reminders:
Apply for a loan that amounts to or is equal to your monthly earnings or less, to be sure you can afford it.
Select the term of the loan, after which you can actually make the payment.
Repay your debts on time. Delays negatively affect your credit history and increase the amount of debt through the accrual of penalties.
The loan sum is determined individually.
The loan term is fixed.
Early repayments (full or partial) of loans are possible.
What are the operating hours of Kviku PH?
The service works 24/7 and during holidays and non-working days. Our customer service representatives work from 9:00AM to 6:00PM.
Why was I denied the loan?
If you are of legal age and have always made credit payments on time, there may have been an error. Try to fill out and send an application again. The more personal data you indicate, the greater the chance that your application will be approved.
I put the wrong bank details. What can I do?
Unfortunately, in this case you will not receive the money, since the account number does not correspond to the indicated government ID data. The money sent will be returned to the Kviku service within 2 weeks.
After that, the loan will be canceled without interest or commission. You can fill up a new application, indicating the correct bank details. Please make sure to double check the personal information you enter.
Will the next loan limit increase?
Kviku automatically increases the available loan after the payment of the previous one. The succeeding loan will be available immediately after the repayment of the previous loan.
Source: Kviku Online Bank – Philippines