In an era of rapid financial transactions and ever-growing opportunities, the quest for quick and hassle-free loans often leads individuals to seek out innovative solutions like the Skyro Loan app. As the financial landscape continues to evolve, it's essential to stay informed about new options, assess their legitimacy, and understand their application processes and prerequisites thoroughly. In this comprehensive article, CashLoanPH delve into the world of Skyro Loan Review to provide you with the insights and knowledge you need to make well-informed financial decisions.
* You'll Need: Top Legit Online Loans in The Philippines 2023
GET ONLINE LOANS IN THE PHILIPPINES UP TO PHP 25,000
Digido

Popular - 0% first loan

First Loan Range (PHP): 1000 - 10000
Maximum Loan Amount (PHP): 25000
Loan Period (days): 62 - 365

MoneyCat

Fast Approve - 0% first loan

First Loan Range (PHP): 500 - 20000
Maximum Loan Amount (PHP): 20000
Loan Period (days): 62 - 365

OLP Loan

Hot Offer - 0% first loan

First Loan Range (PHP): 1000 - 7000
Maximum Loan Amount (PHP): 20000
Loan Period (days): 62 - 365

Finbro PH

Hot - 0% first loan

First Loan Range (PHP): 1000 - 15000
Maximum Loan Amount (PHP): 50000
Loan Period (days): 62 - 365

Cash-Express

Express Loan - 0% first loan

First Loan Range (PHP): 1000 - 10000
Maximum Loan Amount (PHP): 20000
Loan Period (days): 62 - 365
Introduction to Skyro Loan Review Philippines
In this section, we present a summary of the key features of Skyro Loan Review in the Philippines:
| ✅ Review | ⭐ Skyro Loan PH |
| --- | --- |
| ✅ Loan Limit | ⭐ ₱5,000 – ₱250,000 |
| ✅ Loan Terms | ⭐ 6 – 9 – 12 months |
| ✅ Interest Rate | ⭐ 1.5% – 7% per month |
| ✅ Age Eligibility | ⭐ 18 – 70 years old |
| ✅ ID Requirement | ⭐ Only one valid ID Card needed |
| ✅ Service Area | ⭐ Metro Manila and selected provinces, including Batangas, Bulacan, Rizal, Cavite, Laguna, and Cebu |
| ✅ Pros | ⭐ High maximum loan amount, flexible installment options available |
| ✅ Legitimacy | ⭐ Yes, Skyro Loan PH is a legitimate lending provider |
| ✅ Payment Options | ⭐ Online banks, E-wallets, and Over-The-Counter (OTC) payments accepted |
| ✅ Processing Time | ⭐ Typically, loan processing takes from a few hours up to 3 days |
| ✅ Contact Number | ⭐ Reach Skyro Loan PH at +63 919 170 0717 |
| ✅ Efficiency Rating | ⭐ Skyro Loan PH is rated 9/10 for its efficiency and service quality |
Understanding these details is crucial for anyone considering utilizing the services of Skyro Loan.
Getting Acquainted with Skyro Finance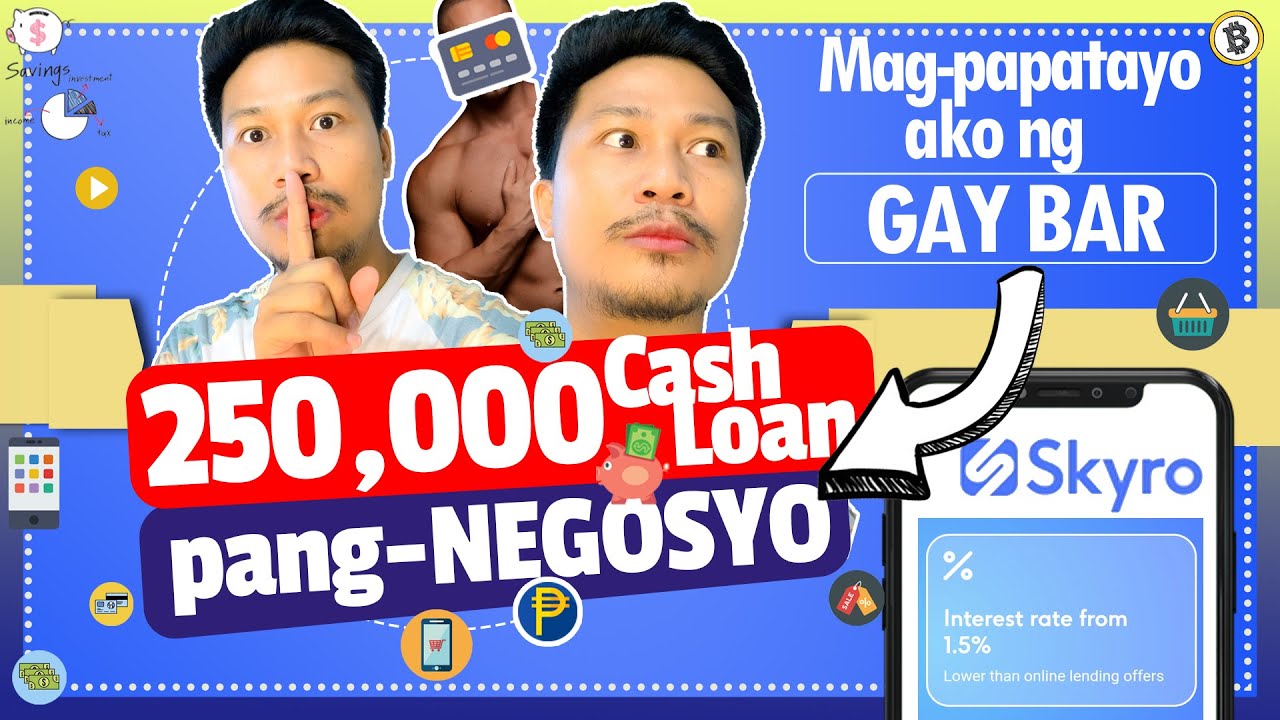 Before diving into the nitty-gritty of Skyro Loan, it's essential to understand the background and objectives of Skyro Finance:
Skyro Finance is a brand committed to offering point-of-sale (POS) loans and cash loans in the Philippines. This financial institution, founded in 2022, is on a mission to make accessible and fair lending products and services available to Filipinos. Skyro serves as the collective identity of two companies, namely Advanced Finance Solutions, Inc., and Jungle Lending, Inc.
Types of Skyro Installment Loans
Skyro Loan Philippines currently provides two primary types of installment loans:
Skyro cash loan: A collateral-free service enabling borrowers to secure loans of up to ₱250,000 without the need for any collateral. These loans can be disbursed directly to the customer's bank account or e-wallet.
POS loan: Beyond cash loans, Skyro offers point-of-sale (POS) loans, which are often referred to as Skyro gadget loans. This service allows customers to purchase home appliances, electronics, or furniture from partner merchants with a low down payment and flexible monthly installments. An example of this type of loan is the cellphone installment loan.
The Essence of Skyro Loan
Skyro Loan represents a personal loan service designed to deliver flexibility and convenience to Filipinos seeking financial solutions. Whether you need funds for home appliances, education, medical expenses, or any other purpose, Skyro offers a straightforward approach, requiring only one valid ID and a smartphone. Loan amounts range from ₱5,000 to ₱250,000, with interest rates spanning from 1.5% to 7% per month and a choice of repayment terms for 6, 9, or 12 months.
Pros of Skyro Loan App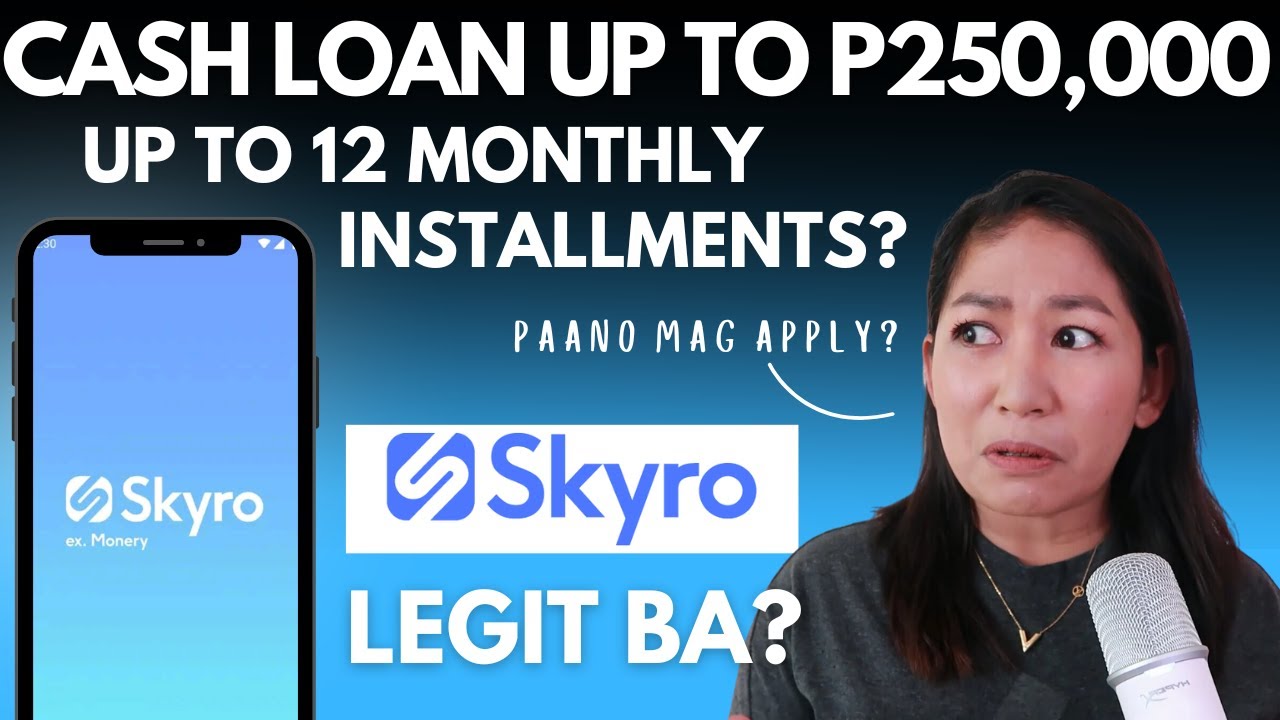 Understanding the advantages of Skyro Loan is pivotal in assessing its suitability for your financial needs:
High maximum loan amount: Skyro Loan empowers borrowers to access up to ₱250,000, making it a standout option in comparison to other online lending platforms in the Philippines.
Flexible payment options: Borrowers have the choice of repayment terms, ranging from 6 to 12 months, allowing for alignment with individual preferences and financial capabilities.
Swift and convenient loan process: Applying for a Skyro Loan is a streamlined process that mandates only a single valid ID. There's no requirement to submit additional documents or collateral.
Friendly customer service: Adequate support and assistance in the form of amiable customer service personnel.
Exclusive offers and discounts: Skyro Philippines extends special offers and discounts to its users, enhancing the overall value proposition.
Cons of Skyro Lending
As with any financial service, it's essential to be aware of the potential drawbacks. Before proceeding with a Skyro Loan, consider the following limitations:
Origination fee: An origination fee equivalent to 16.6% of the approved loan amount or ₱5,000, whichever is lower, is charged.
Late payment fee: A late payment fee of ₱500, or up to 5% of the loan disbursement amount, is imposed.
Pre-payment fee: A 5% pre-payment fee applies to borrowers who opt to pay off their loans before the stipulated term.
In-person meeting requirement: To complete the application process, borrowers must engage in an in-person meeting with a Skyro representative for interview and contract signing.
Skyro Loan Requirements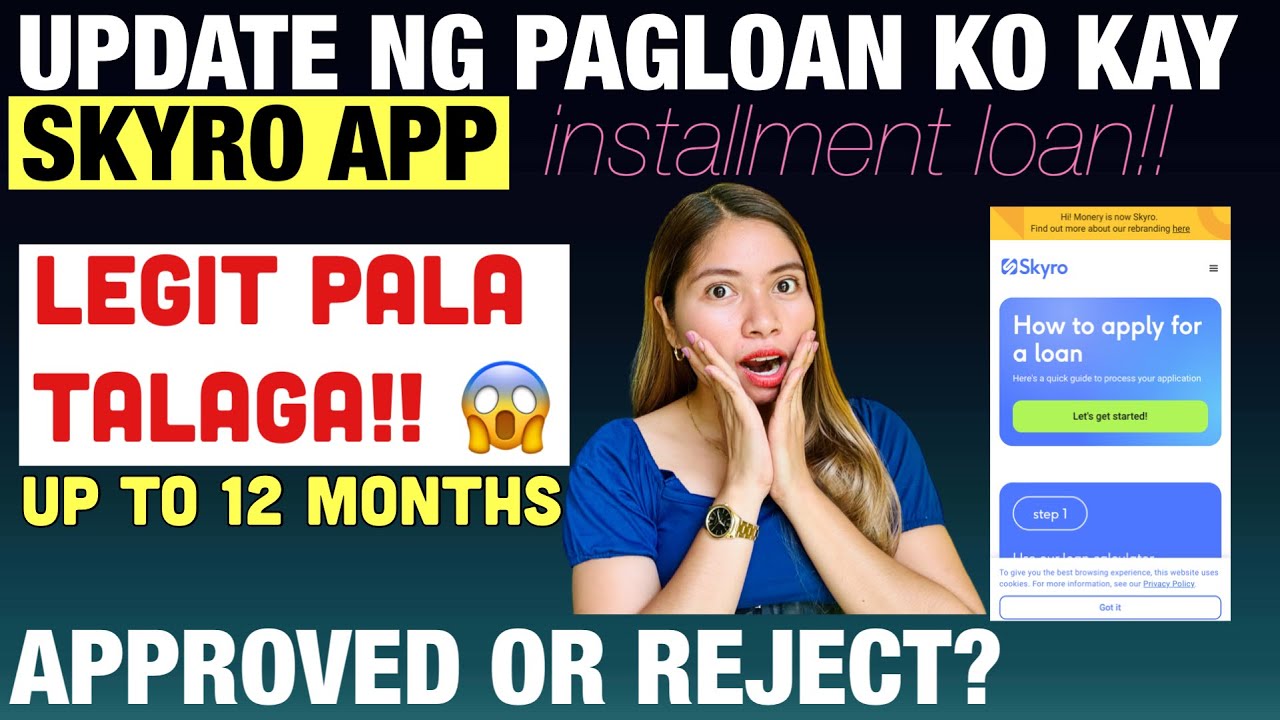 Eligibility criteria for acquiring a Skyro app include:
Filipino citizenship: Borrowers must be citizens of the Philippines, aged between 18 and 70 years old.
Availability for meetings: Prospective borrowers should be able to meet with a Skyro representative in either Metro Manila or specific provinces, including Batangas, Bulacan, Rizal, Cavite, Laguna, and Cebu.
Technological prerequisites: Borrowers are required to have a smartphone and a Philippine mobile number.
Valid government ID: One valid government ID, providing proof of address and date of birth, is necessary. Acceptable IDs include the Philippine passport, PhilSys ID (Philippine Identification ID), Driver's license, UMID (Unified Multi-Purpose ID), SSS ID (Social Security System ID), Postal ID, and PRC ID (Professional Regulation Commission ID).
Proof of income: Providing proof of a reliable source of income from various channels such as employment, business, pension, or remittances is crucial to meet the criteria.
Skyro Loan Interest Rate
One of the distinct advantages of Skyro Loan is its competitive interest rates, which range from 1.5% to 7% per month. The specific interest rate applied depends on various factors, including the loan amount, the chosen loan term, and the borrower's credit score.
To illustrate, consider the following example: If you were to borrow ₱60,000 for 12 months with an interest rate of 1.5%, your monthly payment would amount to ₱5,960, inclusive of interest. It is essential to note that this example serves an illustrative purpose, assuming that payments are made on time. Actual payments may vary based on prevailing rates at the time of application.
Example of Skyro Loan Calculator
The Skyro cash loan calculator is a valuable tool that empowers borrowers to tailor their loan amount and installment period according to their budget. To use the calculator, follow these steps:
Visit the Skyro website or the Skyro loan app.
Navigate to the loan calculator section.
Utilize the slider or input box to select your desired loan amount (e.g., ₱60,000).
Utilize the slider or input box to select your preferred installment period (e.g., 12 months).
The calculator will then generate an estimated monthly payment, such as ₱5,960. Keep in mind that this figure is an approximation, and the actual amount may vary based on prevailing rates at the time of application.
A Step-by-Step Guide to Registering for Skyro Loan Application
This section provides a detailed guide to applying for a Skyro loan online, offering borrowers a straightforward and accessible path to securing financial assistance. The process is as follows:
Step #1: Visit the Website or Download the App
Visit the official Skyro website at skyro.ph or download the Skyro app for Android or IOS mobile devices.
Utilize the loan calculator to determine the loan amount and installment period that align with your financial needs.
Review the monthly payment and the applicable interest rate for your selected loan.
Step #2: Fill Out the Online Form
Click "Apply for this loan" and proceed to complete the online form with your personal details, including your full name, mobile number, and email address.
After filling out the form, click "Next."
Step #3: Confirm Your Phone Number
An SMS code will be sent to your registered mobile number for verification.
Step #4: Upload a Photo of Your ID
Fill out information regarding your income source and bank account or e-wallet.
Upload a clear photo of your valid ID, ensuring it displays your current address and date of birth.
Step #5: Schedule a Meeting with a Skyro Representative
In the final step of the online form, select the date, time, and location for your meeting with a representative from Skyro.
Upon submitting the form, you will receive a call from a Skyro agent to confirm the meeting details. Meetings typically occur within one to five days following your application.
Step #6: Meeting with the Representative and Signing the Loan Documents
On the scheduled day, ensure you have your valid ID and smartphone with you.
The representative will provide you with the loan documents for signing and will also take photos of you and your ID. This meeting typically lasts for approximately 30 to 60 minutes.
Step #7: Wait for Final Approval and Fund Disbursement
Following the meeting, Skyro will review your application and notify you of their decision via a phone call or SMS.
If your application is approved, the loan amount will be credited to your bank account or e-wallet within one to eight days.
As a supplementary resource, you can refer to instructional videos that provide insights into how to navigate the application process.
Skyro Loan Review and Feedback
Real-world experiences often provide the most valuable insights into the utility and reliability of a financial service. In this section, we offer a firsthand account of a borrower's experience with the Skyro loan app:
"I applied for a loan of ₱50,000 through the Skyro loan app to purchase a new laptop for my online business. The application process was incredibly swift and straightforward. I was pleasantly surprised that I only needed to upload a single valid ID and schedule a meeting with a Skyro representative.
The representative visited my house the following day and provided a comprehensive explanation of the loan terms and conditions. After a clear understanding, I signed the loan agreement, and the loan amount was disbursed to my bank account within an hour.
The interest rate for my loan was fixed at 2% per month, which, compared to other lenders, seemed quite reasonable. What I particularly appreciate about Skyro is the flexibility it offers in terms of payment options. I can conveniently make payments through the app, via bank transfer, or in person at 7-Eleven outlets. Moreover, the timely payment reminders and the amiable customer service added to the overall positive experience.
In conclusion, I am highly satisfied with the Skyro loan app and would not hesitate to recommend it to anyone in need of quick and straightforward access to financial assistance."
This firsthand account showcases the practicality and efficiency of the Skyro loan app in real-world scenarios. The positive experience of this borrower highlights the accessibility and convenience of the service.
How to Make Skyro Loan Payments
Understanding how to make loan payments is a fundamental aspect of any financial service. Skyro Loan offers various payment methods to accommodate different preferences and circumstances. Here are the steps to make a Skyro Loan payment:
On your home screen within the Skyro Loan app, locate and tap on the block representing your loan.
Select the option "Make a payment."
Choose your preferred payment method and follow the on-screen instructions. Skyro Loan provides three primary payment options:
Bank Transfer: You can conveniently transfer the payment amount to Skyro's bank account using your online banking app or website. Skyro is partnered with several major banks, including BDO, BPI, Land Bank, Metrobank, RCBC, and UnionBank.
E-wallet: For a seamless payment experience, you can use popular e-wallets such as GCash, PayMaya, GrabPay, or Coins.ph. Simply scan the QR code provided in the Skyro app or enter your mobile number along with the payment amount.
Over-the-Counter (OTC) Outlets: This option involves generating a unique code using the Skyro app and presenting it to the cashier at a designated OTC outlet. A list of OTC partners and their locations can be found on the Skyro website.
After making the payment, await confirmation from Skyro. The processing time for confirmation may vary, taking up to 48 hours, depending on the payment method and the financial institution used.
It's important to note that paying via e-wallet or over-the-counter partners may incur a ₱25 transaction fee. Additionally, online bank payments may include an extra fee ranging from ₱10 to ₱25, in addition to the ₱25 transaction fee.
Comparing Skyro Financing to Home Credit and Other Apps
In the world of financial services, making informed comparisons is paramount to selecting the right solution for your needs. Let's compare Skyro Loan with some other lending apps based on various criteria:
| Loan App | Skyro Loan | Home Credit | Unacash |
| --- | --- | --- | --- |
| Amount | ₱5,000 – ₱250,000 | ₱3,000 – ₱150,000 | ₱1,000 – ₱50,000 |
| Tenor | 6 – 9 – 12 months | 6 – 60 months | 2 – 6 months |
| Age | 18 – 70 years old | 18 – 68 years old | 18 and older |
| Interest rate | 1.5% – 7% per month | 1.83% per month or more | 0% – 16% per month |
| Approval time | 1 to 8 days | As fast as 1 minute | Less than 24 hours |
| General assessment | Good | Good | Middling |
This comparative analysis provides a valuable perspective on how Skyro Loan stacks up against similar lending apps, considering key factors like loan amount, tenor, age requirements, interest rates, and approval times.
Skyro Loan Contact Information
For access to more information, addressing concerns, or seeking clarifications about Skyro's operations, the following contact details are at your disposal:
Hotline number: +63 919 170 0717 / +632 8540 3337
Address: 20F Cyber Sigma, Lawton Avenue, Bonifacio South, Taguig City, 1637 Metro Manila
Website: skyro.ph
Portal: portal.skyro.ph
Email: [email protected]
Twitter: twitter.com/skyroph
Partnership details: Accessible via the official Skyro website.
Frequently Asked Questions about Skyro Loan App Philippines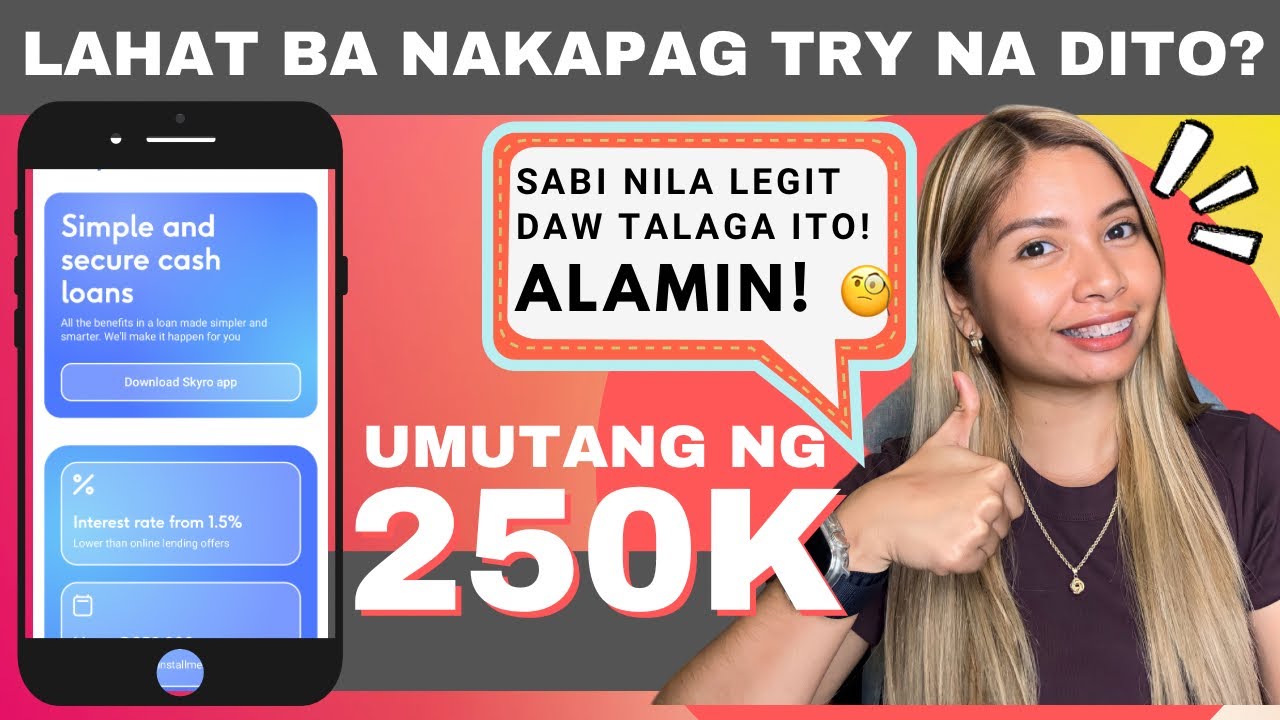 In this section, we aim to address common questions and provide clarity regarding the Skyro Loan app in the Philippines:
How to pay Skyro using GCash?
Log in to your GCash app and access the "Pay Bills" feature.
Select "Loans" from the list of biller categories and opt for Skyro as the designated biller.
Provide your Skyro loan account number, the intended payment amount, and your email address.
Confirm the details and complete the transaction by tapping "Pay Now."
Upon successful completion, you will receive a confirmation message and an email receipt for the payment.
Is Skyro loan legit or not?
Yes, Skyro Loan is a legitimate lending company operating within the Philippines. The company holds valid registration with the Securities and Exchange Commission (SEC), the government agency responsible for overseeing and regulating the lending industry. Additionally, Skyro Loan is a proud member of the Fintech Alliance of the Philippines (FinAccel), a self-regulatory organization that advocates for ethical and responsible lending practices among fintech companies.
How long is Skyro loan processing time?
The application process itself typically takes between 30 to 60 minutes. However, this duration does not encompass the time required to schedule and attend a meeting with a Skyro agent. The scheduling of such meetings can occur within 1 to 8 days following the submission of an online application. Consequently, the total time needed to access a loan through Skyro can vary, contingent upon agent availability and customer-specific factors.
How much is Skyro penalty fee?
Skyro Loan imposes a penalty fee amounting to ₱500 or 5% of the disbursement amount, whichever is lower. This penalty fee becomes effective on the day following the due date and is applied monthly for each month of delay. Adherence to payment deadlines through online banking, e-wallets, or over-the-counter outlets is crucial to avoid incurring this fee.
Is Skyro SEC registered?
Indeed, Skyro Loan is registered with the Securities and Exchange Commission (SEC) under two distinct corporations:
Advanced Finance Solutions, Inc. holds SEC Registration Number 2022080063542-00 and operates under license number F-22-0029-37.
Jungle Lending, Inc. holds SEC Registration Number CS202002223 and operates under license number 3249.
Conclusion: Skyro Loan – Your Bridge to Financial Convenience
In the dynamic landscape of financial services, Skyro Loan shines as a beacon of convenience and reliability for Filipinos seeking financial support. Offering minimal prerequisites, competitive interest rates, and an array of payment options, Skyro Loan serves as a viable choice for individuals in need of straightforward and cost-effective financial solutions. If you're on the lookout for a hassle-free means to access financial resources, Skyro Loan may be the answer you've been seeking.
With this detailed exploration of Skyro Loan Review Philippines, you are well-equipped to make informed decisions about your financial journey. By delving into the specifics of Skyro Loan, understanding its advantages, and considering the experiences of real users, you have gained a comprehensive view of this financial service. As you continue to navigate the ever-evolving landscape of financial options, may this article serve as a valuable resource guiding you toward financial clarity and confidence in your choices.
Source: Skyro.PH