UnaCash is a fast loan app, one of the fastest cash loan apps in the Philippines in 2022. Users can apply for a Credit Line that can be used for the Cash Loan Up to PHP 50 000, online installment shopping, and Lazada Wallet credits!
Credit line usage:
CASH LOAN – Easily transfer your credits to your bank account after loan approval
LAZADA WALLET CREDIT – You can also choose to shop at Lazada by converting your credits to Lazada Wallet Credits!
SHOPPING INSTALLMENT UP TO 0% INTEREST – Using your credit, shop from our merchants which offer installment items; gadgets, beauty, fashion, automotive, home, grocery and a whole lot more!
| | |
| --- | --- |
| Loan Name | UnaCash PH |
| Loan Amount | from 1000 PHP to 50,000 PHP |
| Loan Term | up to 6 months |
| Loan Interest | 16% per month |
About UnaCash
UnaCash is operated by DIGIDO FINANCE CORP., a licensed financing company (SEC Registration No. CS202003056; Certificate of Authority No. 1272).
What do UnaCash App Offer?
Interest Rate: Low (APR = 194%)
Loan Term: 2-6 Months
Loan Amount: Max PHP 50,000.00
Approval Time: 24 Hours
Representative example: You apply for PHP 20,000 and choose repayment over 6 months, your semi-monthly payment will be only PHP 2,666.67 semi-month, your total interest will be PHP 1,000 semi-monthly (APR = 194%) *
* Refer to Terms & Conditions to understand the full product details
Fastest Cash Loans In The Philippines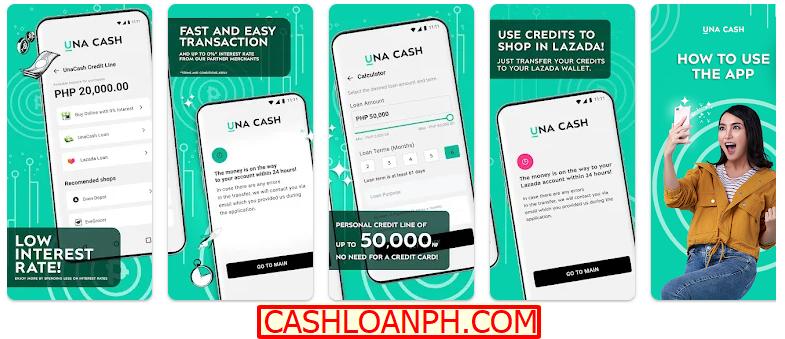 Convenient cash loan application without leaving the safety and comfort of your home.
Apply for a cash loan up to PHP 50,000
Low interest rate
Fast loan approval (within 5 minutes)
Flexible loan terms up to 6 months
Personal line of credit with a limit of 1,000 until 50,000
How to Apply for a cash loan?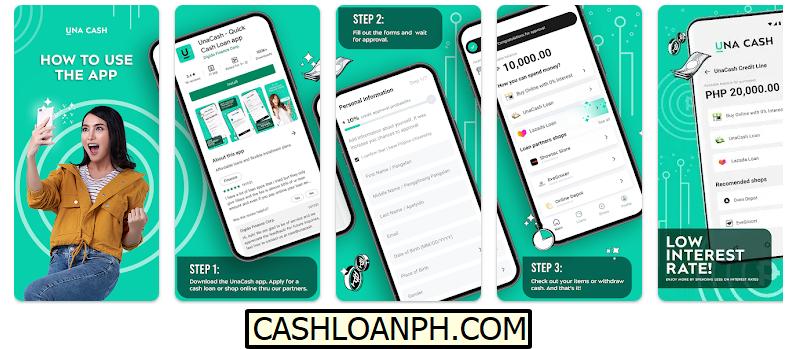 Get Unacash App HERE
Fill in your personal data
Select the Loans terms
Wait for the approval
Get your money
FAQ about UnaCash App
Why Choose UnaCash?
MOBILE ONLY BANKING
NO BANK VISIT NEEDED
FAST AND EASY REPAYMENT
What is UnaCash Loan App?
UnaCash is an all-digital cash loan app that gives you a convenient and seamless experience with low interest rates. No bank visits needed, no hidden charges, and definitely no hassle application.
What is a Credit line?
Credit line is an approved amount of loan from UnaCash that you can cash out or spend to buy items from our partner merchants. It allows you to "buy now, pay later" from 0%* interest rate.
What is the interest rate?
The interest rate may be from 0% to 16% per month depends on clients credit score. The installment is payable from 1 to 6 months depending on your chosen terms.
What if I cannot pay on the due date?
If you cannot pay on your due date, we offer prolongation, which will give you another 4 days to settle your due payments to avoid a late payment fee of PHP800.00 and daily interest of 0.33%. You may email us at [email protected] for your request and pay the PHP200.00 prolongation fee on or before your due date.
Who can apply for a cash loans?
In order to start using UnaCash, you need to:
Be at least 18 yrs old Filipino citizen
Have a valid e-mail address and mobile number
Do I need a bank account or credit card to start using UnaCash?
No, you don't need a bank account or credit card to use UnaCash.
What I need for online repayments?
You can pay online through GCash and online bank transfer in the app. Pay offline at our partner stores:
7-11
Bayad Center
Cebuana Lhuillier
M Lhuillier
The SM Store
How can I reloan?
We welcome repeat loans! As long as you don't have an ongoing loan and you have a good credit standing, you can reloan anytime.
Just send us an email at [email protected] with the following details:
Full Name
Email Address
Previous PN (Promissory Note) Number
Loan Amount (PHP 1,000 to PHP 50,000)
Loan Terms (1 to 6 months)
Contacts UnaCash
Email: [email protected]
Address: 15F The IBP Tower, Jade Drive, Ortigas Center, San Antonio Pasig City 1605
Source: unacash.com.ph