Binixo is a loan broker and has been working with borrowers since 2017. Fast service for choosing the best loans online in Philippines. The first loan is possible from 1000 to 25000 PHP with a commission fee of 0.01%.
| | |
| --- | --- |
| Name | Binixo PH |
| Amount | ₱1 000 – ₱25 000 |
| Term | 3 – 36 months |
| Age | 18+ years |
| Citizenship | only Filipino |
| Email | [email protected] |
Get a loan up to PHP 25,000 at 0.01% in 15 minutes
100% online service;
favorable credit conditions;
intuitive interface;
loan amount from 1000 to 25 000 PHP;
with any credit history;
no need to leave the house, 24/7;
receive money on the card within 15 minutes;
95% of the application is approved.
The first loan is possible from 1000 to 25000 with a commission fee of 0.01%, if the loan is repaid on time. Lenders offer different repayment periods with a discount on the loan commission, more information on the home page of each lender.
Note very important: before applying the online loan, please think several times if you really need it, read all terms, requirements, because possibly there is a way you could not apply the loan and solve your finance situation by yourself or with the help of your friends / relatives.
Basic requirements for borrowers
Age from 18 years;
The presence of citizenship of Philippines (requires a citizen's passport).
Loan conditions
The interest for using the loan (interest rate) ranges from 4 to 916 percent per annum.
Credit history is not taken into account when applying for a loan.
The annual interest rate on the loan ranges from 4 to 916 percent.
In case of violation of the terms of payment, a commission is charged in the amount of 0.1% of the amount owed.
Example of calculating a loan
Loan size – 1000 PHP, duration – 3 months, interest – 48% per annum. ((48/12 * 3) / 100 * 1000) + 1000 = 1120 PHP. Total amount of payment: 1120 PHP
How To Get A Loan From Binixo PH?
Requires you must have:
One valid personal phone number;
One valid email address;
One valid ID card or one of the other identity documents.
A Step-by-step guide: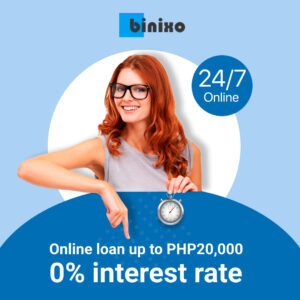 Goto => Binixo Loan Now
Choose how much money you want to borrow and the desired repayment period.
Click on the "Take a loan online" button.
Fill out all your personal information on the online form and click "Continue".
Please choose a suitable lender and provide them detailed data, including your identity document, credit card, proof of income and employment, etc.
Read all the conditions and terms, then sign the contract.
Waiting for your application to be approved.
Get the money and enjoy it.
Faq About Binixo PH
Online Loans Ph – Online philippines loan
Minimal requirements. Only ID needed. Don't require guarantors representation. Easy application in 3 steps. For any purpose. 24/7 online. Reliable lenders. Online loans.
What is Binixo PH?
Binixo Corporation is a Philippine-based financial technology company powered by international line of fintech companies and focused in online micro- and consumer financing, one of the first to offer online loans in the Philippines.
How do I get a loan on Binixo?
Go to the website «Binixo PH», select the amount (up to 25 000 PHP) and term of the loan and press the "Apply now" button. Fill out the form and accept the terms of the loan. Get the money to the specified bank account.
How much is the interest rate in Binixo PH?
The first time, you can borrow from 1,000 PHP to 25,000 PHP with a commission of 0.01%. If the money is repaid on time, you can have a discount on the commission, varying on different lenders' regulations. Moreover, the platform also has interest rates ranging from 4% to 916% per year, depending on the market at the time. If there are any delays in the payment period, you will be charged a commission of 0.1% of the money owed.
Who is eligible for a Binixo loan PH?
Philippines citizens of any sex between 18 and 60 (your age plus your repayment period must not exceed 60).
Have a job or a stable income.
Be able to provide a valid residential address in Metro Manila or other selected regions in the country.
How long will I get the money from Binixo PH?
You will need 20 minutes for the registration process, one day for the application form to be approved, and another day for the money to be transferred to your bank account. If everything you provide is complete and accurate, the total processing time will take you at least two days.
Is Binixo PH safe?
We found the company Binixo PH in the list of registered organizations on the SEC website, which means that it works in the Philippines under the law, has passed all the necessary inspections of the supervisory authority and can be trusted!
The company had some issues with the SEC in 2019, as we understood they thought that Binixo was a lender and they were banned, read more about it you can here.
Is Binixo PH a scam?
No. The product is absolutely fine and no need to worry about anything hidden. The company Binixo Corporation really provides these loans.
Is Binixo legit?
If you want to find out if Binixo is legit, we confirm that the company operates completely legally and has a state license.
Where can I borrow money instantly in the Philippines?
Among the online loan providers who offer the fastest approval are the following: Digido Cash Loan, MoneyCat Philippines, Soscredit Loan, Binixo PH… Read more: Best Loans Online In Philippines