At Lloyd's Financing PH, they do not just give you a ONE TIME loan, but a loan every 6 months for 5-10 years – to fund your financial needs and make your business grow smoothly. Enjoy our 0.88% interest per month and Watch your BUSINESS grow smoothly.
| | |
| --- | --- |
| Lending Company | LLOYD'S Financing Corporation |
| Loan Type | Business Loan |
| Loan Amount | up to PHP 2,000,000 |
| Loan Term | 12 – 36 months |
Lloyd's Financing PH provide financial support to SMEs, business owner aspirants, and self/permanently employed people.
Apply for a business loan at Lloyd's and Loan up to 2 MILLION at 0.88% interest per month!
CHECK OUT LLOYD's FINANCING PH NOW !!!
About Lloyd's Financing PH
LLOYD'S Financing Corporation (LFC) has been in consumer lending since its fonnation in the 80's. LFC is engaged in general financing, which includes CAR AND REAL ESTATE LOANS. In the year 2010, they introduced BUSINESS & PERSONAL LOANS.
For more than twenty-five years Lloyd's Financing PH have been serving the Filipino people, striving to maintain fast, efficient, and accessible loan services, without sacrificing the integrity of it's company mission: to improve the lives of each and every one of their market. They acknowledge that for as long as there is room to grow, they will be able to provide proper financing services to the in such need.
Most importantly, LFC is recognised for our Corporate Social Responsibility, which is very much observed by all our employees, that it plays a significant role in keeping their clients loyal to them. They advocate Christianity and share what little wisdom they have about the Word of God. Their company feels that not only must they contribute to the growth of their market financially, but also assist them spiritually. They believe that it is important to give back. After all, without God, they will not be where they are today.
Lloyd's Financing PH Loan Information
Loan Amount: Minimum of 100,000 – Maximum of 2,000,000
Loan Term: 12 to 36 months
Interest rate: Minimum (APR): 10.56% Maximum (APR): 60%
Lloyd's Financing PH Requirements
Application
At least 1 valid ID
Business permit
Vaccination card (complete vaccination)
Checking account
Others to be discussed face-to-face
Lloyd's Financing PH Loan Payments
GCash is a popular e-wallet payment option in Lloyd's Financing PH that allows its users to pay.
Other Modes Accepted: 7-Eleven, BDO, BPI, Ecpay, CliQQ, True Money, UnionBank, Coins.PH…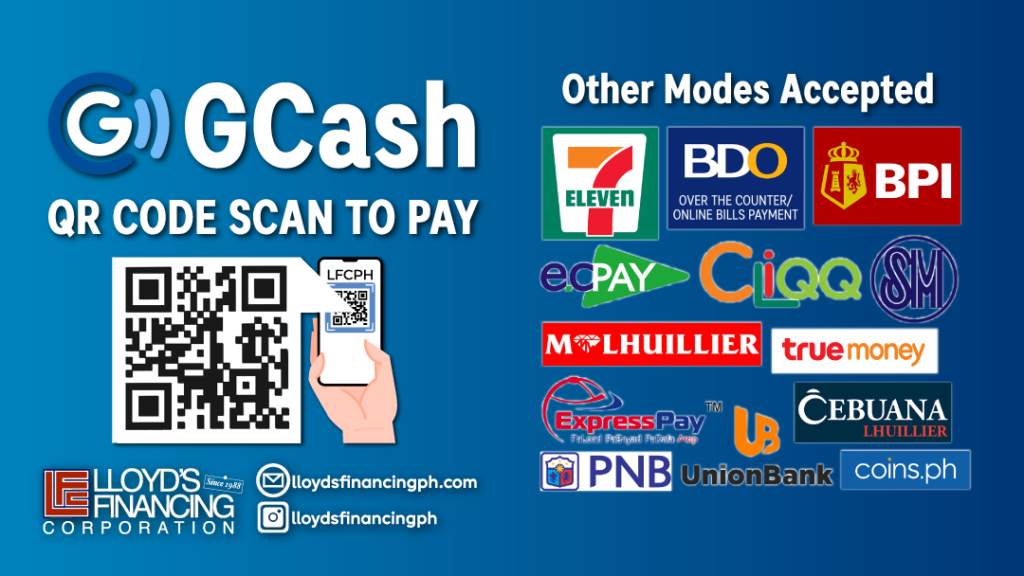 Representative example
You can apply for ₱200,000 and choose repayment over 12 months, your monthly amortization will be ₱18,426.67 every month at 0.88%, your total cost of the loan will be ₱221,120.04 (APR = 10.56%). All applicable fees are included.
Lloyd's Financing PH App
Download the official Lloyd's app on Android phones and tablets. This app will help you choose the right loans, and other services and product options for you.
Compute your expected monthly amortizations with our mobile amortization calculator
Easily Apply for a loan or other programs by scheduling on-site appointments
Know the Careers available and Apply directly from your phone
Read legitimate testimonials from our happy clients
Learn about our company and business insights
Be informed of important announcements
Explore what's new, popular and businesses on the rise in the Philippines
FAQ About Lloyd's Financing PH Loan
I just need a quick cash loan for emergency. I am a good payer.
This is strictly for BUSINESS LOANS only.
How many days is your processing time?
3 to 4 working days from completion of requirements.
Do Lloyd's Financing charge upfront fees?
No Lloyd's Financing do not. If someone is trying to collect a fee from you, please beware.
I don't have collateral. Can I still loan?
Yes. Lloyd's Financing have a special program for that. You may drop by their head office so they can discuss your options.
Do Lloyd's Financing have Salary Loan / OFW Loan?
No. But you may drop by their head office to discuss your other options.
I don't have a checking account.
Lloyd's Financing's repayment is by Post-dated checks. However, while they may not be able to give you a loan now, you may still drop by their Makati Head Office to discuss your financial options. If you are amenable, you may be qualified for a loan after a few months.
I have a checking account. Am I automatically approved?
Not necessarily. Having a checking account is just a qualifier.
Attention on Lloyd's Financing
For other concerns and/or issues, please email at [email protected]. You may also drop by their Makati Head Office for faster transactions and accommodation of your concerns and issues.
Please be reminded of the following:
They do not collect fees outside their Makati Head Office.
All transactions are done face-to-face in their Makati Head Office.
Their Gcash transactions are Scan-to-Pay only. They do not have a Gcash cellphone number.
DO NOT issue blank pre-signed checks. Their payee name is LLOYD'S FINANCING CORP.
Once a check is issued to their company, it will automatically be deposited unless the client requests for a cancellation at least 2 banking days from the date of the check. In case of doubt, please message at their official Facebook account (facebook.com/lloydsfinancingph) or email at [email protected].
Contacts Lloyd's Financing PH
LLOYD'S Financing Corporation (LFC)
Address: Simkimban Bldg. #9532B Taguig St. Makati City 1208
Tel No: +63 2 8896.9532
Email: [email protected]
Facebook: https://www.facebook.com/lloydsfinancingph/