Download Mr. Cash Legit Loan app in Google Play. With a valid ID and a selfie photo, get your loan journey in Mr. Cash started by filling into for verification.
| | |
| --- | --- |
| Loan Name | Mr.Cash Legit Loan App |
| Loan Amount | up to PHP 23,000 |
| Loan Term | 30 days up to 45 days installment |
| SEC No. | 2021070020530-12 |
Lending app with 0 interest. Pwede rin sa installment basis & flexible term. Apply online any time & any where.
Hindi mo kailangan ng Payslip dito sa pag aapply ng Loan. 1 VALID ID lang Pasok kana! for details Pm Mr.Cash
Mr.CASH LOAN APP ON GOOGLE PLAY
About Mr Cash Loan App Philippines
Mr.Cash Loan App is an online lending app which is dedicated to providing Filipinos with financial convenience and cash service. Its operation is easier and its loan procedure is more simplified. Mr.Cash focuses on benefiting more people who have financial needs.
| | | | | | |
| --- | --- | --- | --- | --- | --- |
| COMPANY NAME | REGISTRATION NO. | C.A. NO. | ANNIVERSARY DATE | INTEREST RATES | |
| e-Generation Lending Corporation Operating under the name of Pesopay Lending, Cash-here Lending, Snappy Cash Lending, MyWallet Lending, Mr.Cash Lending, PesoBox Lending and LoanUp Lending | 2021070020530-12 | L-21-0036-70 | 23-Jul-21 | 60.00% | per annum |
Why You Choose Mr.Cash Loan App
Kailangan mo ba ng 0 INTEREST RATE CASH LOAN? Mr. Cash got you!
Accessible: Complete verification in a few steps, Get a loan limit hassle-free.
Info secured: Various certificated projects at your fingertips whenever you want, Your info is 100% secured.
Low interest: Lowest interest ever, Transparent fees, Law-compliant.
Fast pay-out: Online application, Speedy review, Fund processed in 5 mins.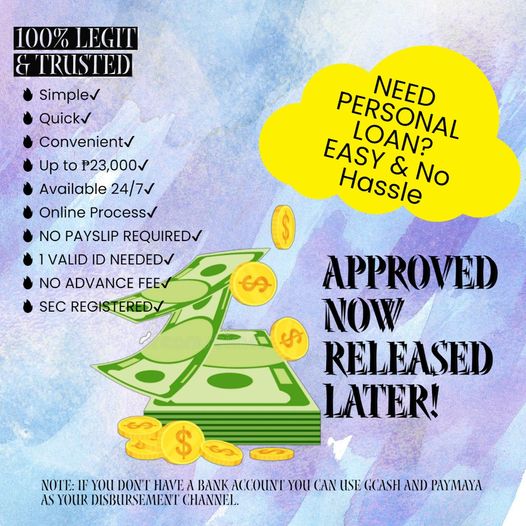 Mr.Cash Loan offer any types of loan in Philippines. Open for all types of loans: Self employed / Employed / Business Loan / Emergency / Personal / Sari Sari Store owner / Freelancer / BPO / Housewife / Online Seller / Vendor and many more.
You can gain:
Fast process&Fast Payout
Flexible terms (30 days up to 45 days installment)
No hidden fees&No advance fee
Requirements is 1 VALID ID ONLY
No payslip required
100% LEGIT&TRUSTED
HINDI SCAM DAHIL WALA KANG ILALABAS NA PERA KAPAG NAGLOAN KA
Mr.Cash Loan Product Introduction
Age: Over 18
Loan amount: ₱ 1,500.00 – ₱ 23,000.00
Loan term: 91 days (shortest, including renewal time) – 120 days (longest, including renewal time)
Monthly EIR: 14.81-15%
Maximum APR: 182.5%
Other fees: one time service fee(per transaction).
Minimum 10%, Maximum 20%
For example: If you choose a loan limit of ₱ 4,000.00 with a period of 91 days, one time service fee 10%(deducted in advance),₱ 4,000.00 * 10% =₱400 the interest rate of 20.5%, total interest must be paid: ₱ 4,000.00 * 20.5% =₱ 820.00, total payment of ₱ 4,820.00, ₱4,000 (borrowed amount) + ₱820.00 (interest rate) =₱4,820.00, (total payment)
5 Easy Steps To Apply Loan Mr.Cash Loan App
Step 1. Download the App thru the link https://cashloanph.com/go/mrcashloanph/ to create an account.
Step 2. Click the "Apply now" button once your registration is completed and provide all the needed information.
Step 3. Select desired amount & duration then click the "submit" button to submit your application.
Step 4. Review everything before you confirm and proceed to facial recognition
Step 5. Wait for the result, just click "MY LOAN" to view your application status
FAQ About Mr.Cash Loan App
Is Mr.Cash Loan App Philippines Legit?
Yes. Mr.Cash Loan app is legitimate and licensed. You can be sure that the company is operating legally, Mr.Cash Loan App Philippines is SEC registered and is certified for this purpose.
Corporate Name:e-Generation Lending
Corporation Business Name:e-Generation Lending Corporation
SEC Company Registration NO.2021070020530-12
Certificate of Authority NO.L-21-0036-70
Hindi alam kung paano mag-apply kay Mr. Cash?
Awesome step by step procedure on how to apply in Mr. Cash Loan:
1. Click and Download this link: https://cashloanph.com/go/mrcashloanph/ Mag-create ng account at i-click ang "Apply Now" button.
2. Kumpletuhin ang mga hinihinging impormasyon. Kapag ikaw ay repeat borrower, no need na dumaan sa prosesong ito.
3. Pumili ng loan amount at loan term. Click "Submit" button para ma-submit ang iyong application.
4. Confirm loan information at mag proceed sa facial recogniton.
5. Pagkatapos mo mag facial recognition, irereview ang mga information na iyong na-submit.
6. For the last step, mag-antay lamang sa loan approval at loan disbursement.
Who can borrow Mr.Cash Loan App?
Philippine nationalities
18+ years old
Have at least 1 main id(SSS/UMID/TIN/Driver License/Passport)
Have a job or self-employed
How long does the loan evaluation take?
For new users, you can get loan evaluation result in 12 hrs on working days after submitting your loan. Mr.Cash Loan may send you texts/ call you to evaluate your loan qualification and info confirmation. For repeated borrowers with good credit standing, your loan will be approved and disbursed instantly.
Are there any other fees incurred in the application?
The total amount to pay is calculated on the basis of daily interest without any other hidden fees. Before submitting your loan, you can read detailed loan info and fees on the order confirmation page.
Can I apply for multiple loans simultaneously?
Currently, you are eligible to apply for one loan at one time. Apply for another loan is disabled if you have a pending/ongoing loan.
How to apply again?
After fully paying your loan, you are entitled to applying again. With all of your previous application info saved in your account, you only have to update relative info(such as the latest income slip) to get a loan faster and easier.
How to make a repayment?
Click the "Repayment" button in Mr.Cash Loan app and choose your desirable repayment method (such as 7-11, Gcash, RD Pawnshop, M. Lhuillier).
Complete the repayment by inputting the relative contract number in the payment instructions and bring your valid ID.
Note: Save your payment receipt for further payment validation. Keep in your mind that the only payment method they accept is conducted in Mr.Cash Loan app.
Is my account info protected?
Mr.Cash Loan App implement a strict information protection system to ensure the safety of your loan. Each staff is required to sign an agreement promising to keep all info confidential. Your info is 100% secure and protected by Mr.Cash. Their app is legitimate and licensed. All the info you provided to us will be kept confidential and safe.
Contacts Mr.Cash Loan App
Corporate Name:e-Generation Lending. Corporation Business Name:e-Generation Lending
Corporation SEC Company Registration NO.2021070020530-12 Certificate of Authority NO.L-21-0036-70
Company Address:17th Floor, The Orient Square Building Ortigas Avenue, Ortigas Center Pasig City
TIN: 600-784-760-00000
Customer Service Email : [email protected]
consumer hotline : 09690678937
EASY AND FAST LOAN PROCESS!FLEXIBLE REPAYMENT PERIOD✔0 INTEREST RATE✔RELEASED FAST✔ for details Pm us here