With Online Loans Pilipinas (OLP) – 0% interest online fast peso cash loan app for the Philippines . Get a special offer for new clients: as low as 0% interest and without other fees credit.
| | |
| --- | --- |
| First loan 0% | up to 7000 PHP |
| Amount | 1 000 PHP – 20 000 PHP |
| Age | 22 – 70 |
| Term | 7 days – 30 days |
0% interest online fast peso cash loan app for the Philippines
Get a special offer for new clients: as low as 0% interest and without other fees credit. The minimum interest rate is 0% and maximum APR is 200%. One time late payment fee is 500₱ (in case of delinquency of each monthly payment).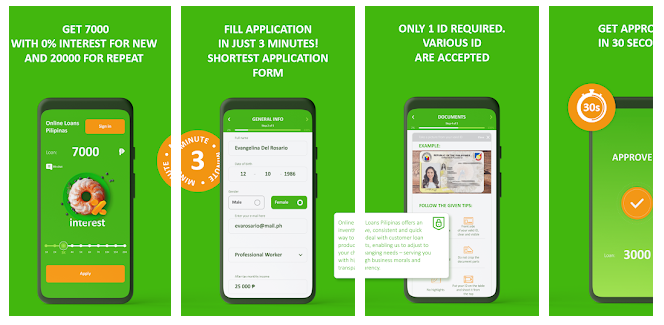 For new and valued repeat borrowers: the loan amount is from 1,000₱ to 25,000₱. Subject to evaluation, the credit term reaches from 90 days to 180 days.
For example, a borrower who took 5,000₱ for 90 days gets 5,000₱ and has to return 7,500₱ in 3 equal instalments, 2,500 interest fees. No other debt payments.
Use quick cash advance unsecured lending money application for your urgent needs. Take money before payday, for medicine, gifts, and other financial needs. Apply for reliable and secure lender service when salary is not enough.
FAQ: conditions of the peso cash lending money app service.
Why choose Online Loans Pilipinas (OLP)?
0% interest rate for new customers – absolutely free, 0% interest, no processing fee, and no hidden charges .
Safe and secure – all information that has been collected is kept and protected.
Fast loan approval – receive the result in just a few minutes.
No collateral needed – just 1 valid ID and you're all set.
No Hidden Fees – all charges are indicated and explain to the borrower.
Instant Disbursement – get your money in just 5 minutes upon approval using Instapay.
How to apply for an easy payday online loan via the app?
A very fast process to get cash advance:
Use your device: a smartphone, a desktop, or a laptop.
Access GET OLP NOW or Download the Online Loans Pilipinas application.
Select your loan amount.
Fill the forms in 5 minutes.
Wait for SMS or call for approval.
Get the money from 1,000-25,000 pesos to your bank account or GCash e-wallet.
Benefits of Online loans Pilipinas
Absolutely low 0% interest rate for every new client.
No collateral – unsecured lending.
No need to spend your time in-office visits.
No inconvenience, use 1 id.
No other fees for the first-time borrower.
No need to pay anything besides a loan amount.
Instant within 5 minutes disbursement after approval.
Growing approval amount. Start a journey to significant sums of money, any time. Grow your financial shoulder from 1,000 to a significant sum 25,000 pesos.
Who can get a cash loan online
A person is a Philippines citizen and 18+ years old.
Has at least 1 id and has a mobile number.
Has a job or self-employed. What do you need to have to get a personal loan?
Only 1 document. Choose SSS/TIN/Passport/PRC/UMID/Student id.
A smartphone, a laptop, or a desktop and internet access.
Banking account or GCash e-wallet.
For what purposes borrow money?
Bills.
Medicine.
Bikes' repairment.
Gifts.
Calamities.
Leisure.
FAQ About Online Loans Pilipinas (OLP)
How to receive your peso loan?
Get money to your bank account or GCash e-wallet.
How much time to wait for the money?
Get approval in 5 to 30 minutes. In most cases, you will receive an automatic SMS notification; otherwise, you will get a call. After approval, it takes 5 minutes to get cash with InstaPay.
How much cash can I borrow?
Our current loanable amounts for first-time applicants range are from are between 1,000 to 7000 PHP. Repeat borrowers in good standing can borrow up to significant sum 25,000.
How to make a repayment of your credit?
Take your reference number. Use these options. Go to any 7 Eleven and use the Cliqq machine via DRAGON LOANS. Visit any Bayad Center, LBC, Cebuana, SM or Robinsons Payment center using DRAGONPAY.
How tale a repeat salary loan?
Use the app or the site to get funds.
How will I know if I am approved?
OLP will notify you through SMS once your application was approved and another one once loan was successfully disbursed into your account.
What if my loan declined?
OLP are sorry that your application was declined. OLP do not disclosed the reason for approving and disapproving loan application. You can still try to re-apply after 7 days.
About Online Loans Pilipinas
Who is Online Loans Pilipinas?
Online Loans Pilipinas is a loan company that uses financial technology to serve its customers better. Currently, our service exists 100% online. We believe that a purely online service will bring our loan product efficiently and equitably to more customers.
Is Online Loans Pilipinas legal?
Yes, company name is Online Loans Pilipinas Financing Inc. SEC Registration Number CS201726430. Certificate of Authority #1181.
Is my information safe?
Online Loans Pilipinas is registered with National Privacy Commission and strictly complies with data protection and privacy regulations. Rest assured that all information provided will be respected, safely kept, and will not be used for any fraudulent activity or unauthorized action. Get first loan
Email: [email protected]
Facebook: https://www.facebook.com/onlineloansph.