Peso in PH is an online loan platform that relies on advanced Internet financial technology to help everyone solve problems that require money. The main feature is Approve the amount based on your credit score , which can help you solve the problem of capital turnover. Let contact pesoin customer service now !!!
Pesoin's Loan Product Introduction
Loan amount: ₱1,500 – ₱8,000
Loan period: 120 days, 150 days or 210 days
Fees and Charges: Maximum Annual Interest Rate (APR):18.25% per year. The daily Interest rate :0.05%
Transaction fee: ₱25-₱130.The transaction fee is charged in advance by the transaction channel with successful loan.
Age: Over 20
For example:
If you choose a loan limit of ₱4,000 with a period of 120 days (4 months),the daily Interest rate is 0.05%, Transaction fee is ₱25 , Service fee and other fees is 0, then you will need to pay:
Service fee: ₱4,000*0%=0,
Amount in hand:₱4,000-₱25=₱3,975,
Total interest fees: ₱4,000 * 0.05% * 120= ₱240,
Monthly interest shall be paid: ₱4,000 * 0.05% * 30 = ₱60,
Total repayment bill at due date(Loan Amount+Total interest fee):₱4,000 + ₱240 = ₱4,240,
Monthly repayment: ₱4,240/4= ₱1,060.
Who can borrow from PesoIn Service?
PesoIn PH is one of the earliest online lending platform in the Philippines. If you are over 20 years old, have a stable mobile number and a stable source of income, you can come to PesoIn to borrow cash money or make a peso loan .
PesoIn will increase the limit and loan period based on your credit score! The more data you provide, the higher your credit score.
4 Steps to Borrow from PesoIn
Step 1: Download the app PesoIn.
Step 2: Fill in the data.
Step 3: Wait for the review.
Step 4: Receive peso after 1 – 2 days
Tips: Please check the lending terms and conditions in PesoIn website, or contact PesoIn customer service for more information.
How to repay PesoIn PH?
You can repay by G-cash, bank card transfer, ATM transfer, 7-Eleven,etc.
Advanced of PesoIn PH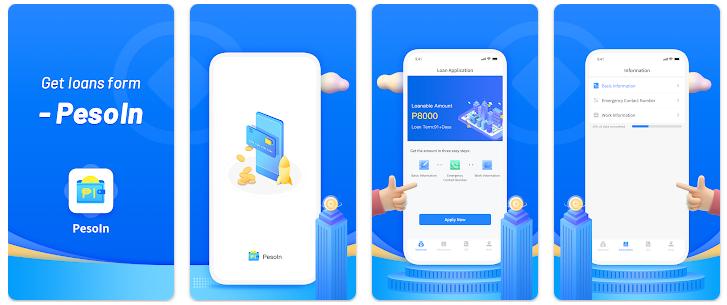 Easy operation: Quick measure credit,simple loan
Fast approval: 24-hour quick approval
Low interest: Daily interest rate as low as 0.8% per day
Privacy Security: All aspects to ensure privacy and safety
Is PesoIn PH Legit?
PesoIn PH App is Legit and Legal. PesoIn, powered by LINK CREDIT LENDING INVESTORS INC., is SEC registered and is certified for this purpose. Its SEC Registration number is CS201914644. and its Certificate of Authority number is 3072.
Contacts PesoIn Customer Service
LINK CREDIT LENDING INVESTORS INC.
PSEC Registration Number: NO.CS201914644. Registered Business Name: Pesoin Certificate of Authority to Operate a Financing/Lending (CA). Company Number: NO.3072
Address: 12th Floor, Aseana Three Bldg, , Macapagal Ave cor. Aseana Ave. Aseana City Tambo City of Paranaque, Fourth District, NCR, Philippines, 1701
Working time: 9am-18pm(Monday – Saturday)
Website: https://www.pesoin.com
Email: [email protected]
TOP 10 other loans online in the Philippines