In recent years, the Philippines has witnessed an impressive surge in the number of lending companies offering a diverse range of financial services to both individuals and businesses. As of 2023, over 50 lending companies are actively contributing to the country's financial landscape.
In this article, CashLoanPH explores some of the prominent players in this sector, highlighting their services, objectives, and unique offerings.
1. ADVANCE: Revolutionizing Salary On-Demand Services
Advance, a pioneer in the Philippines, offers innovative salary on-demand services that extend financial solutions to employees through their employers. This approach enhances engagement, promotes financial wellness, and enriches a company's core benefits program. By providing timely access to earned wages, Advance empowers individuals to manage their finances more effectively.
2. ASIALINK: Rapid Growth in Financial Services
Asialink Finance Corporation stands as one of the leading and fastest-growing finance companies in the Philippines. Their commitment to expansion underscores their mission to provide accessible financial solutions to a wider range of clients.
3. ASTERIA LENDING: Bridging Credit Gaps through Data and Technology
Asteria Lending employs advanced data and technology to make credit accessible to individuals and micro, small, and medium-sized enterprises (MSMEs). Their focus on leveraging data ensures that creditworthy individuals and businesses receive the support they need to thrive.
4. BALIKBAYAD: Empowering Filipinos with Financial Solutions
Balikbayad, a service by First Digital Finance Corporation, operates as a licensed finance company, dedicated to providing Filipinos with secure financial solutions. Their commitment to regulatory compliance ensures that customers receive transparent and dependable financial services.
5. BILLEASE: Simplifying Payments with Buy Now, Pay Later
Billease offers an innovative buy now, pay later app that empowers customers to split payments into interest-free or interest-bearing installments. This solution serves as both a sales optimization tool and an alternative payment method for online merchants, contributing to enhanced financial flexibility for shoppers.
6. BLEND.PH: Facilitating Ethical Peer-to-Peer Funding
Blend.PH, a peer-to-peer funding platform operated by Inclusive Financial Technologies, promotes responsible borrowing and ethical lending. By connecting borrowers and lenders, Blend.PH nurtures a supportive financial ecosystem for the mutual benefit of both parties.
7. BUKAS: Democratizing Access to Education Financing
Bukas is on a mission to democratize access to higher education in the Philippines. In partnership with leading educational institutions, Bukas offers affordable financing solutions for Filipino students. This initiative addresses a critical need in the country's education landscape.
8. CASHBEE: Rapidly Expanding Online Lending
CashBee, a fast-paced startup online lending company, is committed to delivering top-quality service to clients and creating a growth-oriented environment for employees. Their dedication to recognizing and rewarding employee efforts contributes to a vibrant corporate culture.
9. CASHEXPRESS: Speedy Online Lending
CashExpress simplifies the lending process through its online platform, offering local clients an easy and fast way to access credit. The company's streamlined approval process ensures that borrowers can secure funds quickly.
10. CASHJEEP: Empowering Lives through Easy Access to Credit
CashJeep's online lending app facilitates easy access to credit, enabling Filipinos to fund business ventures, pay for education, and cover monthly bills. By simplifying the lending process, CashJeep aims to improve the quality of life for Filipinos.
11. CASH MART: Extending Loan Solutions with Integrity
Cash Mart's expansion from Singapore to the Philippines exemplifies its commitment to delivering unparalleled loan solutions. With a focus on integrity and perseverance, Cash Mart caters to the financial needs of Filipinos.
12. CASHME: Simplifying Online Cash Loans
Cash Me, an online cash loan platform by Hupan Lending Technology Incorporated, offers a straightforward solution for borrowers seeking convenient access to funds. Their user-friendly platform simplifies the lending process, ensuring a seamless experience for clients.
13. CEPAT KREDIT: Targeting Specific Financing Needs
Cepat Kredit Financing, Inc. specializes in providing a focused portfolio of products and services tailored for Overseas Filipino Workers (OFWs) and motorcycle and tricycle unit owners. This targeted approach addresses the unique financing needs of these segments.
14. CRAWFORT: A Reputed Moneylender with Global Reach
Crawfort Finance, a well-respected moneylender from Singapore, has earned its reputation through the disbursement of over 200,000 loans. This esteemed institution has also garnered recognition through prestigious awards.
15. DIGIDO: Promoting Financial Access for All
Digido believes in providing accessible, secure, and affordable financial tools to hardworking Filipinos. Their commitment to financial inclusion ensures that everyone can benefit from convenient and secure financial services.
16. DIRECT LOAN: Empowering Filipinos with Cash Loan Solutions
Direct Loan, a product issued by iDirect Finance Company, Inc., strives to provide friendly credit loan services to Filipinos. With a commitment to convenience and family well-being, Direct Loan helps individuals improve their quality of life.
17. EASYCASH: Supporting Filipino Seafarers and Their Families
Easycash serves as a financial service company that offers loans to support Filipino seafarers and their families. By addressing the financial needs of this vital segment, Easycash contributes to the well-being of seafaring communities.
18. E-PERASH: Alternative Financial Services for Underserved Customers
E-Perash, a Philippine fintech company, seeks to provide alternative financial services to underserved customers. Their easy loan application process and quick approval enable individuals to access the financial support they need efficiently.
19. FCASH: Enabling Non-Collateralized Online Loans
Fcash Global Lending INC specializes in providing easy non-collateralized online loans to ordinary borrowers, offering a solution to their financial challenges. By offering accessible loan services, Fcash supports the financial well-being of Filipinos.
20. FINBRO.PH: Meeting Unexpected Expenses with Quick Loans
Finbro is an online lending platform designed to offer quick loans for unexpected expenses. Their user-centric approach ensures that individuals can access the funds they need without unnecessary delays.
21. FIRST CIRCLE: Empowering SMEs through FinTech Innovation
First Circle, a trailblazer in Financial Technology (FinTech), focuses on empowering Small and Medium Enterprises (SMEs) through financing their business-to-business (B2B) trade transactions. Their meritocratic approach ensures that businesses can access capital based on their potential rather than traditional collateral.
22. FLEXI: Accessible and Affordable Financing for Filipinos
Flexi stands committed to providing accessible and affordable financing services to the Filipino people. This dedication resonates with their mission to improve financial access for all.
23. GCASH: A Comprehensive Mobile Wallet Solution
Gcash, within the lifestyle "super app" Grab, provides users with a comprehensive mobile wallet solution. This eWallet facilitates a wide range of financial transactions, including bill payments, money transfers, and online shopping.
24. GLOBAL CREDIT PROS: Fostering Financial Inclusion and Literacy
Global CreditPros, a FinTech pioneer in the Philippines, focuses on providing financial offerings for Filipinos while promoting financial inclusion and literacy. Their holistic suite of services aims to guide individuals toward a path of financial wellness and retirement.
25. GRABFINANCE: Enabling Seamless Digital Payments
GrabFinance's eWallet, ShopeePay, offers users easy access to digital payment services. This solution simplifies online and offline transactions, contributing to a seamless and convenient shopping experience for users.
26. HAPPYPERA: Technological Solutions for Financial Services
HappyPera, a Filipino technology and financial services company, showcases the integration of technology into financial solutions, enhancing accessibility and convenience for their customers.
27. HOME CREDIT: Technology-Driven Consumer Finance
Home Credit's global tech-driven approach impacts people's lives by changing how they afford essential items. Their innovative use of technology empowers people to make purchases while managing their finances responsibly.
28. INVESTED: Bridging the Educational Funding Gap
InvestEd's focus on providing educational funding solutions addresses a critical gap for under-resourced youth in the Philippines. By offering financial support for higher education and upskilling, InvestEd aims to level the playing field for young Filipinos.
29. JUANHAND: Providing Financial Mobility
JuanHand serves as a partner for cash loans, offering financial mobility to Filipinos. Their simple application and approval process enable borrowers to access funds promptly.
30. KVIKU: 24/7 Instant Loans
Kviku's fully automated lending platform ensures that loans are available 24/7, providing a convenient solution for borrowers. This technology-driven approach promotes accessibility and efficiency in lending.
31. LF LENDING: Breaking the Stigma of Non-Bank Lenders
LF Lending Services Corporation aims to break the stigma surrounding non-bank lenders by offering reasonably priced short-term multi-purpose loans. This commitment ensures that clients receive loans with fair terms and transparent rates.
32. LOANCHAMP: Fast, Easy, and Affordable Finance
LoanChamp's online lending platform embodies its mission to provide fast, easy, and affordable financial solutions to borrowers. Their streamlined process ensures a seamless experience for clients seeking financing.
33. LOANSOLUTIONS.PH: Simplifying Loan Application with Diverse Options
Loansolutions.ph connects borrowers with reputable lending institutions through a single application form. By offering diverse loan options, this fintech platform simplifies the loan application process for Filipinos.
34. MARCOPAY: Financial Empowerment for Seafarers
MarCoPay's eWallet platform is tailored for seafarers and their families, aiming to enhance their quality of life. With the eWallet, MarCoPay seeks to provide financial empowerment to this vital community.
35. MONEYCAT: Providing Flexible Financial Solutions
MoneyCat Online Philippines offers financial solutions for up to 180 days, catering to a range of borrowing needs. Their flexibility ensures that borrowers can access loans that suit their specific requirements.
36. OK PESO: Secure and Hassle-Free Loan Application
OkPeso, a SEC licensed online cash loan provider, stands as a secure and hassle-free solution for those seeking loans. Their commitment to regulatory compliance ensures a reliable borrowing experience.
37. ONLINE LOANS PILIPINAS: Catering to Digital Financial Needs
Online Loans Pilipinas focuses on digital financial solutions to meet the needs of Filipinos. By providing micro and consumer financing online, they contribute to enhancing the financial well-being of their customers.
38. PAUTANG ONLINE: Convenient Online Lending
Pautang Online's online lending app offers convenient access to loans from the comfort of one's home. Their commitment to quick approval and responsive customer service ensures a smooth borrowing experience.
39. PAWNHERO: Transforming Pawnshops with Online Services
PawnHero pioneers the concept of an online pawn shop in Southeast Asia, offering personal loans off a wide range of items. This innovative approach transforms traditional pawnshops into a more accessible and digital-friendly option.
40. PESOLOAN: Digitized Mobile Platform for Loans
Pesoloan's digitized mobile platform provides a modern solution for borrowers seeking loans. Their commitment to compliance and transparency ensures a reliable and secure lending experience.
41. PITACASH: Trusted and Customer-Centric Lending
PitaCash, one of the trusted lending services in the Philippines, focuses on delivering quality cash loans with transparency and accessibility. Their customer-centric approach ensures that Filipinos can access loans that cater to their needs.
42. PONDOPESO: Fintech Support for Filipinos
PondoPeso, a fintech platform, provides financial assistance to Filipinos through a range of services. Their commitment to financial support aims to improve the financial well-being of their clients.
43. PRIMA FINTECH: International Financial Solutions for the Underserved
Prima Fintech Lending Corp, operating in multiple countries including the Philippines, focuses on lending to individuals with little or no credit history. This inclusive approach aims to provide financial solutions to the underserved.
44. QLO: Enhancing Employee Benefits with Loan Solutions
QLO offers a cost-free and risk-free salary loan facility to companies, augmenting their employee benefits. This initiative enhances employee retention and productivity while addressing financial needs.
45. SAVII: Holistic Financial Support for Workforce
SAVii, in response to evolving needs, expands its offerings beyond financial assistance to include learning resources and mental health support. This holistic approach empowers the workforce through diverse support channels.
46. SHOPEE: Seamlessly Integrating Digital Payments
ShopeePay, as part of the larger Shopee ecosystem, provides users with seamless digital payment services. This integration contributes to a convenient and efficient online shopping experience.
47. SEEKCAP: Simplifying Business Loans for MSMEs
SeekCap, an online lending marketplace, facilitates hassle-free business loans for MSMEs. Their partnership with trusted lenders ensures that businesses can access the best loan products in the market.
48. SURITYCASH: Speedy and Safe Loaning
SurityCash emphasizes fast and safe loaning solutions. By providing secure and efficient lending services, SurityCash meets the financial needs of its customers.
49. TALA PHILIPPINES: Inclusive Lending for Underserved Customers
Tala Philippines operates as a financial technology company with a focus on inclusive lending. Their lending app offers credit to customers with limited borrowing history, enabling them to pursue their goals.
50. UPESO: Empowering Filipinos with Online Financial Services
U Peso, a fast-growing fin-tech company, provides online financial services to Filipinos. With a broad range of offerings, including cash loans and consumer finance, U Peso aims to enhance financial access for Filipinos nationwide.
51. VAMO: Financial Flexibility with Credit Lines
Vamo Lending Inc., under the VIA SMS Group umbrella, offers credit lines that provide financial flexibility for clients. Their accessible credit solutions cater to various budget situations.
52. VIDALIA: Short-Term Loans for Migrant Workers
Vidalia specializes in offering short-term loans to Filipinos, particularly migrant workers. By addressing the unique financial needs of this group, Vidalia contributes to their financial stability.
53. WELCOME FINANCE: Offering Diverse Retail Loans
Welcome Finance, Inc. offers retail loans, both collateralized and non-collateralized, providing a range of options for borrowers. Their commitment to diverse loan offerings ensures that clients can access financing tailored to their needs.
54. WELOAN: Legitimate Personal Loans
Weloan provides legitimate personal loans that meet borrowing needs with low interest and quick approval. Their commitment to transparency and convenience ensures a reliable lending experience.
55. YULON FINANCE: Customized Financing Solutions
Yulon Finance Philippines Corporation, a subsidiary of Yulon Finance Corporation, specializes in customized financing solutions. Their focus on new and used car financing, as well as machinery and equipment financing, addresses specific industry needs.
56. ZENITH CAPITAL: Quick and Easy Business Loans
Zenith Capital facilitates quick and easy access to business loans for Philippine SMEs and corporations. By easing financial challenges, Zenith Capital supports business growth and development.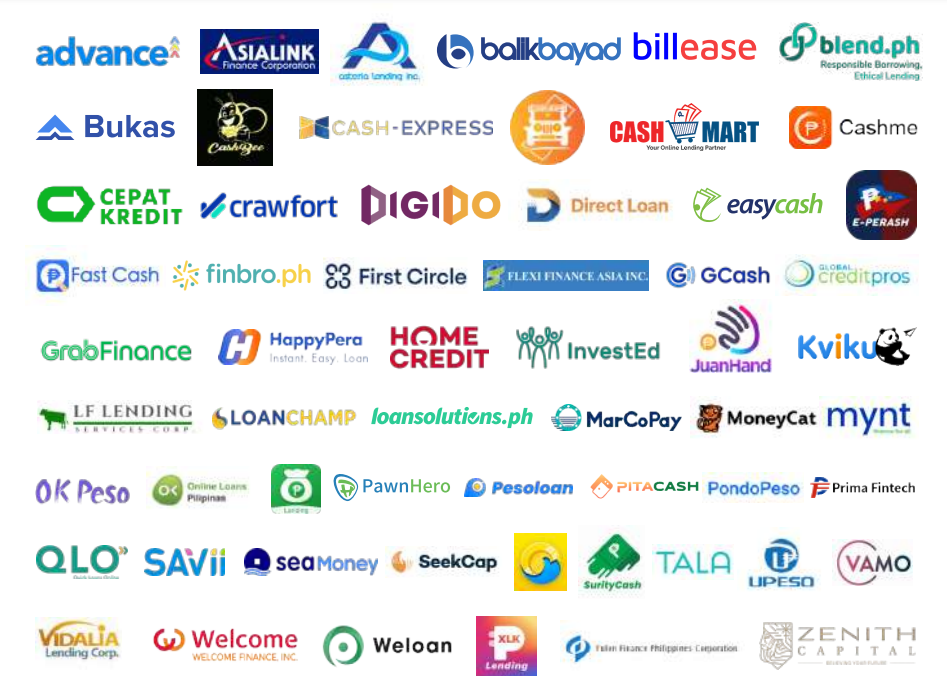 The Philippine financial lending landscape in 2023 presents a vibrant ecosystem of more than 50 lending companies, each contributing unique solutions to address the diverse financial needs of Filipinos. From innovative technology-driven platforms to companies focused on specific segments, these institutions collectively contribute to improving financial access and empowerment across the nation.
Source: Philippines Fintech Report 2023