Get Online Personal Loans Philippines Up To PHP 15,000 At Low Interest Rates With Easy Monthly Payments. Apply For A Tala App Cash Loan Online Using Your Smartphone And Get Fast Approvals In 10 Minutes. GET CASH NOW!
| | |
| --- | --- |
| Loan Name | Tala App Philippines |
| Loan Amount | up to PHP 15,000 |
| Loan Term | max 61 days |
| Loan Interest | 14.86 – 18.32% |
Humiram kahit kailan, kahit saan
Enjoy fast, flexible, and secure loans up to PHP 15,000 with fees as low as 9.5%. Download to get cash now.
DOWNLOAD TALA LOAN APP AND APPLY INSTANTLY!
Get always-ready cash loans on your own terms with affordable fees. Apply through our secure app and get your approval decision in seconds. Choose your own due date and receive money within 24 hours via the method of your choice. Repay on time and you could double your limits in months.
About Tala Philippines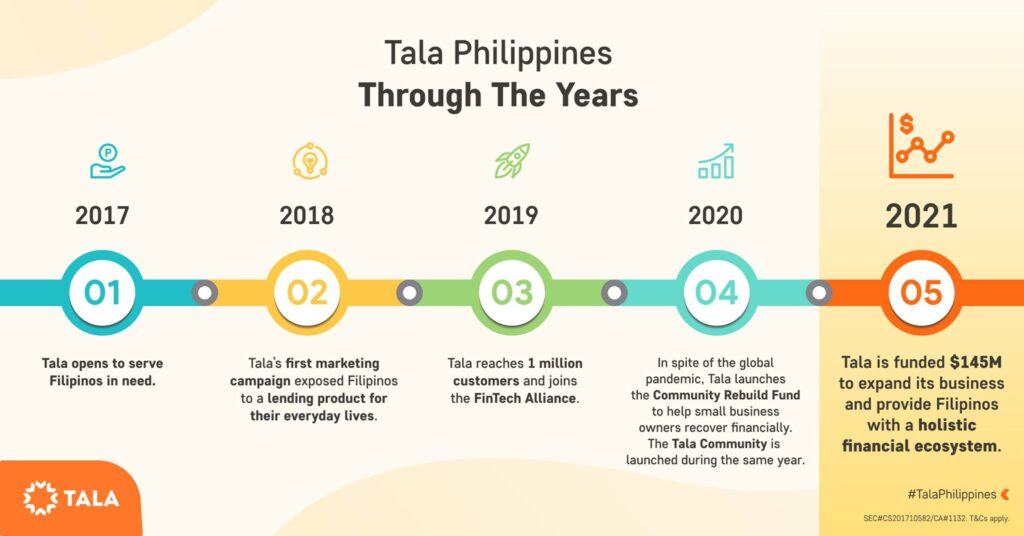 The Best of all lending app in the Philippines.
Tala is a mobile technology and data science company that is working to change the way credit scoring and financial services work around the world.
Tala is operated by Tala Financing Philippines Inc., a licensed financing company with SEC Registration No. CS201710582 and Certificate of Authority No. 1132. Always study the terms and conditions and the disclosure statement before proceeding with any loan transaction.
4 Easy Steps to Complete A Loan Tala App
Download the Tala app Philippines. DOWNLOAD NOW
Apply for a Tala loan: Apply in minutes Fill out a short application and verify your identity using 1 ID and a selfie. Choose your terms Confirm your desired amount, due date, and where to receive your money.
Get your cash Funds sent to your bank account, Coins.ph wallet, or nearest padala center
Repay easily via GCash, Coins.ph, 7-Eleven, PayMaya, Cebuana Lhuillier, or M Lhuillier!
Pay in full or make partial payments, anytime on or before your due date. Borrow again After repaying in full, answer a few short questions and be eligible to receive your next round of funds.
Rates And Fees Loan Tala App
Credit limit amounts: ₱1,000 to ₱15,000
One-time service fee: 10.00% – 30.50%
Monthly EIR: 15.00%
APR: 182.5%
Late fee: one-time fee of 5% of outstanding amount due
Applicable Tax (DST & GRT): N/A
Minimum repayment period offered = 61 days
Maximum repayment period offered = 61 days
Example Fees: For a borrower who receives a ₱4,000 from Tala for our 61-day term, they would owe a 30.50% service fee of ₱1,220.00 for a total payment of ₱5,220.
=> ₱4,000 (borrowed amount) + ₱1,220.00 (service fee) = ₱5,220.00 (total payment)
Why choose Tala Loan App
AFFORDABLE
Tala offers a low one-time fee as low as 9.5%
Choose a repayment date that's aligned with your income cycle to be set up for success
FAST
Apply in minutes and get an instant decision
If approved, get your money within 24 hours through Coins.ph app, at padala centers (incl. Cebuana Lhuillier, Palawan Express, M Lhuillier, and LBC), or your local bank
CONVENIENT
Apply 24/7 in our easy-to-use app
No paperwork, collateral, or bank account needed
Only (1) valid ID required
FINANCIAL CONTROL
Every time you borrow, you can choose up to 61 days to pay back
ALWAYS-READY ACCESS
Repeat access to cash. Just pay back what you owe in full before borrowing again (some exclusions apply)
Answer a few questions in the app and you are set to go
SECURE
Tala secures your personal information with SSL encryption
LONG-TERM GROWTH
Cash limits up to ₱15,000
Most customers double or triple their limit in just months
REWARDING
Earn ₱200 off the next time you borrow when you refer friends to Tala! * Referral terms & conditions: https://tala.ph/referrals/
FAQ Tala Loan App Philippines
Is Tala App Philippines legit?
Tala App is a 100% legit app that provides FAST loans in Philippines. Tala is operated by Tala Financing Philippines Inc., a licensed financing company (SEC Registration No.: CS201710582; TIN: 009-614-758; Certificate of Authority No.: 1132).
Who can apply loan Tala Philipines
Any resident citizen of the Philippines, 18+ years old.
Has at least 1 valid ID and a mobile number.
How do I apply for a Tala loan?
With new customers, to apply for a Tala loan, download the Tala app here https://cashloanph.com/go/talaph/ . Then sign up and fill out a short application on the Tala app. The application should only take few minutes.
What are best loan apps in Philippines?
Tala Philippines Mobile App. Digido (old Robocash) Cash Loan Mobile App. Home Credit Cash Loan… Read more: Loans App Philippines
What devices does the Tala Loan app support?
Currently, the Tala Loan app only supports Android devices running on OS 4.0.3 and up.
How can I borrow loan from Tala without app?
Take note that you cannot access tala loans without a smartphone or through SMS. You can only get a tala loan by downloading the app from the google play store or installing an apk.
Take note, the answers you give will be used to determine whether tala will be lending you money or if you won't qualify for the loan.
Is Tala philippines app for iPhone?
Tala for iPhone and other iOS devices is not currently available.
Where can I download Tala Loan App?
You can download the Tala app on the Google Play Store. We look forward to having you a part of the Tala Family!
How long do I have to repay?
You can choose up to 61 days to repay your Tala loan. You can repay all at once or make partial payments, as long as you clear by your due date.
From time to time, customers may be offered loans for shorter or longer terms. When your loan is approved, review your due date options and choose what's best for you.
Can I pay my loan from home?
Hindi makalabas ng bahay para magbayad ng Tala loan?
Don't worry! Pwede kang magbayad ng loan kahit nasa bahay ka lang. Available ang payment channels via GCash, PayMaya, at Coins.ph.
Para sa inyong payment concerns, mag-email sa [email protected].
Make sure you have the latest version of the Tala app so Gcash will appear as a payment option.
On the Tala app home page, click on the "Make A Payment" button
Enter "AMOUNT" then click submit
Choose GCash as your payment method.
It will generate the reference number and the amount including the convenience fee
Log in to your GCash account and choose Pay Bills > Loans > Tala
Enter the Reference number and Amount as generated from Step 4, plus your GCash Mobile number
Receive a payment confirmation SMS from GCash instantly!
What happens if I dont pay Tala?
Missing loan payments may result in late payment interest, lower loan limits, or the inability to get a subsequent loan from Tala. You may be contacted by collections agents if you do not pay your loan on time.
How do I report a fraudulent scam or activity?
Report anyone pretending to be Tala Philippines by using the in-app chat feature. You can also contact them via email at [email protected] and via SMS at 21585280.
Contacts Tala Philippines
Email: [email protected]
Website:https://tala.ph/
Facebook: www.facebook.com/talaphilippines
(5M+ Installs) Download the Tala App | Tala Loan Philippines
Download the Tala loan app & apply for quick online loans up to PHP 15000. Takes just 10 mins. 5M+ installs. Flexible repayment options. Apply now!
DOWNLOAD TALA LOAN APP AND APPLY INSTANTLY!