Applying for a lendpinoy loan is easy with loan up to ₱100,000 in 12 months ! Just have your requirements ready then download the lendpinoy app. Await for your result and apply for your first loan!
| | |
| --- | --- |
| Loan Name | Tomo LendPinoy |
| Loan Amount | Up to PHP 100,000 |
| Loan Term | Up to 12 months |
| SEC Registration No | CS2018840930 |
About LendPinoy
LendPinoy PH is the loan app product of AND Financing Corporation (AND FC). AND FC is a duly registered financing company with SEC Registration No. CS201840930 & Certificate of Authority to Operate (as a Financing Company) No. 1187.
What is tomo by lendpinoy?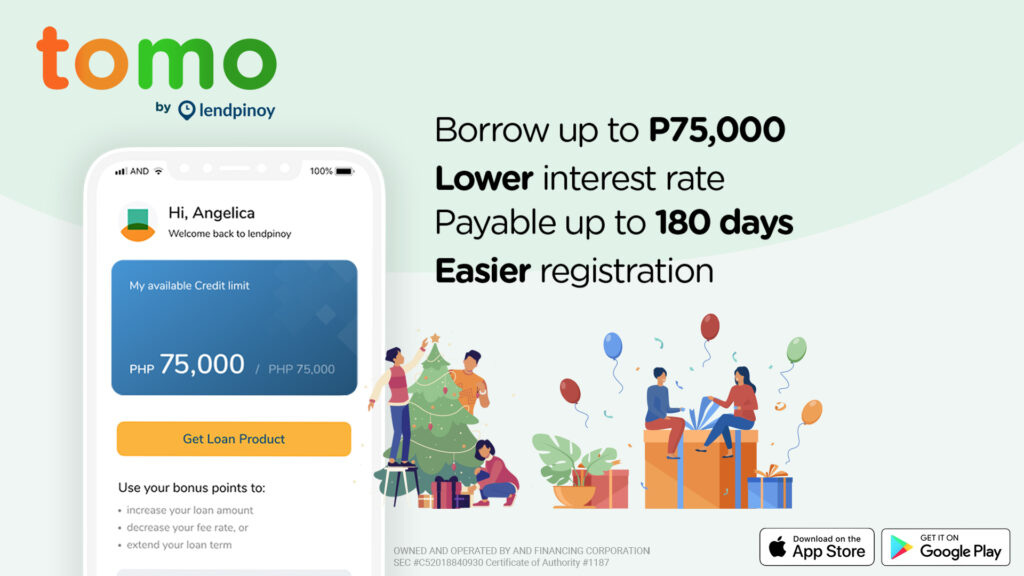 Tomo is a product of lendpinoy application that guarantees to help you in your petsa-de-peligro worries and more! Loan up to ₱100,000 with up to 12 months Repay in single or term Easy reloans NO SERVICE FEE AND OTHER HIDDEN CHARGES!
Who can Apply Loan Lendpinoy?
You may apply if you are:
Working in Metro Manila
Living in Metro Manila, Cavite, Laguna, Rizal, or Bulacan
Currently regularly employed for 6 months or more
Has a salary of at least P15,000 per month
Has an SSS number
21 years old and above
What are the LendPinoy PH requirements?
For just a few information, you are sure to get a lendpinoy service that is perfect for your needs! The following will be required:
personal information
work information
valid govt. issued ID (Driver's License, UMID, Passport, Postal ID, and PRC ID)
a valid email address
a valid mobile phone
How to apply loan LendPinoy?
Download the lendpinoy app
Fill out our fast loan application in the app
Undergo verification through our secured AI, Machine Learning system
Once approved, your cash is directly sent to your nominated bank account in minutes.
Representative Example
Loan amount: P6,000
Term: 3 months
Monthly interest rate: 6.00% (APR 72%)
Effective monthly interest rate: 5.99%
Other fees: None (no processing fee, no service fee)
Sample monthly repayment: (Principal + Interest)
1st month: P 1,884 + P 360 = P 2,244
2nd month: P 1,998 + P 246 = P 2,244
3rd month: P 2,118 + P 127 = P 2,245
Total principal payment PHP 6,000 and total interest cost PHP 733.
FAQ LendPinoy
Where can I receive my cash loan?
Your loaned amount can be disbursed to the following:
your nominated bank account
your nominated FULLY VERIFIED e-wallet
our partner remittance center DA5
Is LendPinoy Legit?
If you are asking is LendPinoy Philippines legit, you can be sure that the company is operating legally. LendPinoy Philippines is SEC registered and is certified for this purpose. Its SEC Registration number is CS2018840930. and its Certificate of Authority number is 1187.
How much is the first loan in LendPinoy?
If this is your first time taking a credit from this app, you will be capped at PHP 100,000. The credit limit increases the more frequently you apply for loans. One on hand, the minimum credit amount is PHP 1,000. The maximum loan term is 12 months while the minimum loan term is 3 months.
How do I apply for a loan in LendPinoy?
Applying for a lendpinoy loan is easy! Just have your requirments ready then download the lendpinoy app here: Google Play and App Store.
Await for your result and apply for your first loan! Repay on time to earn bonus points and use it to increase your credit limit!
Contact LendPinoy
Website: https://lendpinoy.ph/
Email: [email protected]
CS Hotline: 09178775363 (Globe), 09088905389 (Smart)
Facebook: @lendpinoy