PesoHaus PH is an online cash loan/lending app that caters to Filipinos. Unlike traditional lending companies, this app provide fast and easy cash loan services. When you need urgent cash or additional fund, remember, PesoHaus will always be there for you, and they aim to provide the best loan experience ever.
| | |
| --- | --- |
| Lending App | PesoHaus |
| Loan Amount | up to PHP 50,000 |
| Loan Term | 91 – 120 days |
| SEC Registration No. | CS201915717 |
PesoHaus Loan App PH gives fast loans all over the Philippines within 24 hours. It is a fast and convenient help for Filipinos.
PesoHaus Get instant cash. PesoHaus is a Philippine-based lending application powered by the Leapgen Lending Inc. Its goal is to create for the convenient selection of online loans for Filipinos.
Lending app Philippines, borrow up to P50,000! Get cash on same day. Download & apply!
Apply loan online with PesoHaus is quick and easy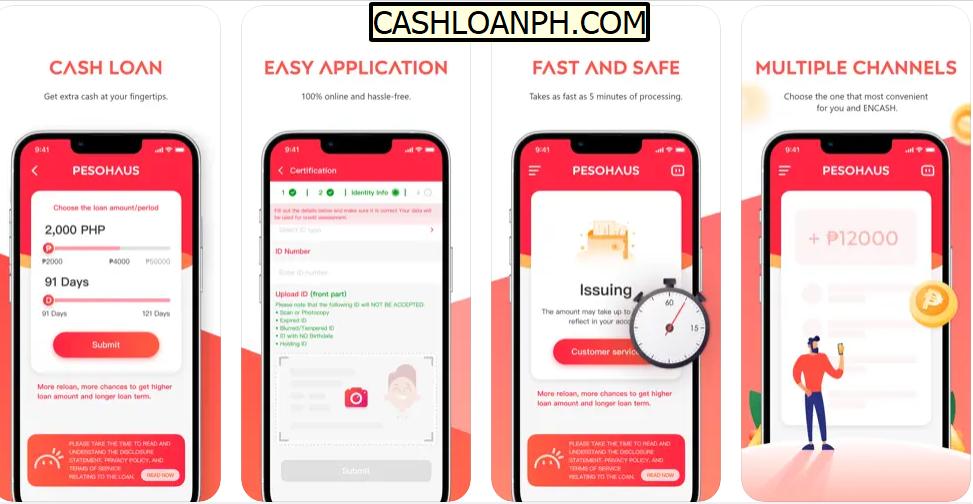 Micro-cash-loan APP with easy loan application and easy repayment schedule
Fast approval: Quick approval of a loan online application in automatic mode
Minimum documents: Providing a valid Government ID is usually sufficient
24 hour service: PesoHaus service works 24/7 at any time
Available online: You can apply loan online from any device with Internet access
100% security: Guaranteed confidentiality and personal data protection
How to Loan from PesoHaus PH?
Easy application steps, fast approval and speedy cash disbursement
Step 1: Download our app thru Playstore and register your number . then click "Apply Now" to apply.
Step 2: Fill out the needed information.
Step 3: Choose the amount you want to loan and loan term.
Step 4: Review your application details.
Before making a loan transaction, please read and review the terms and conditions in the disclosure statement.
Frequently Asked Questions About PesoHaus PH
Is Pesohaus PH registered?
If you are asking is PesoHaus Philippines legit, you can be sure that the company is operating legally. PesoHaus Philippines is SEC registered and is certified for this purpose. Its SEC Registration number is CS201915717. and its Certificate of Authority number is 3089.
What are the PesoHaus Loan application requirements?
Filipinos age 18 and older.
Valid Government ID
Have regular income
Have an active bank account
The advantages of PesoHaus loan app
quickness of installation and of getting a cash;
24-hour access to get a loan;
confidentiality and security of your personal data;
the whole procedure of obtaining and getting an instant loan is provided online, you don't need to leave your home or your office;
there is no extra paperwork;
your location is not important;
convenient ways to return the loan at any time.
What is an Online Loan?
A loan online is a certain amount of money borrowed from a lender via the Internet at a clearly defined term and interest rate.
Online loans same day are the best solution when You need to get money as quickly as possible. The borrower receives money without collateral, additional paperwork and unnecessary documents, but the interest rate is higher than for long-term consumer loans.
How to calculate the interest rate on a loan online?
Example of calculating the real monthly interest rate on a loan online:
For example, the loan amount is P4000, the 91-day loan, the interest rate is 20%, and the repayment amount is P4199.45 (4000*20%/365*91+4000)
What are the main differences between online and offline lending?
The main difference is the presence of a lender platform on the Internet through which all transactions are carried out. Conventionally, we can describe the lending processes in the following ways:
| | |
| --- | --- |
| Online Lending. The application is submitted through an online lending service. Before filing the application, the client gets acquainted with the terms of the agreement. In some cases, the lender's manager calls the applicant to clarify his/her intentions and verify his/her identity. If the potential borrower is suitable for the parameters, the online loan same day is issued instantly. The loan agreement is deemed to be concluded electronically after the borrower accepts the terms. The money goes to the means of payment, the number of which the borrower indicates in the application. | Offline Lending. A potential borrower submits an application to the office with the necessary package of documents. Specialists clarify information about him/her and provide for consideration by the special commission a full analysis of the information received. In case of a positive response from the commission, the borrower is invited to sign the agreement in paper form. Only after that he/she can receive money in a convenient way. |
An online procedure can be completed very quickly. In order to get money You don't even need to leave home. Offline loan processing takes much more time.
Contacts PesoHaus Loan App Philippines
Leapgen Lending Inc.
SEC Registration No. CS201915717 CA No. 3089
Address: 19A East Wing, 19th Floor, Octagon Center, San Miguel Avenue, Ortigas Center, San Antonio,Pasig City.
Email: [email protected]
Hotline: +63 966 426 5222
Through PesoHaus,people can apply online for a loan in 5 mins.
They make it easier for people to apply for a loan, get verified faster, check application status, and make payments easily.