The landscape of financial lending has witnessed a significant shift with the advent of online loan applications. Filipinos, in particular, have taken keen interest in applications like OKPeso, prompting inquiries regarding its legitimacy and credibility. In this comprehensive review, CashLoanPH endeavors to provide readers with a detailed analysis of OKPeso, delving into its advantages, disadvantages, and essential information. By the end of this article, readers will be equipped with the knowledge required to make well-informed decisions about borrowing through OKPeso.
* You'll Need: Top Legit Online Loans in The Philippines 2023
GET ONLINE LOANS IN THE PHILIPPINES UP TO PHP 25,000
Digido

Popular - 0% first loan

First Loan Range (PHP): 1000 - 10000
Maximum Loan Amount (PHP): 25000
Loan Period (days): 62 - 365

MoneyCat

Fast Approve - 0% first loan

First Loan Range (PHP): 500 - 20000
Maximum Loan Amount (PHP): 20000
Loan Period (days): 62 - 365

OLP Loan

Hot Offer - 0% first loan

First Loan Range (PHP): 1000 - 7000
Maximum Loan Amount (PHP): 20000
Loan Period (days): 62 - 365

Finbro PH

Hot - 0% first loan

First Loan Range (PHP): 1000 - 15000
Maximum Loan Amount (PHP): 50000
Loan Period (days): 62 - 365

Cash-Express

Express Loan - 0% first loan

First Loan Range (PHP): 1000 - 10000
Maximum Loan Amount (PHP): 20000
Loan Period (days): 62 - 365
Summary of OKPeso Loan App in the Philippines
| | |
| --- | --- |
| App Name | OKPeso Loan App |
| Maximum Loan Amount | ₱2,000 – ₱20,000 |
| Loan Term | 96 – 365 days |
| Age Requirement | 18 – 49 years old |
| Interest Rate | 24% per annum |
| Pros | – SEC registered loan app<br> – Offers nationwide coverage in the Philippines, ensuring accessibility to a broad user base |
| Loan Application Requirements | – Simple and convenient application process, requiring only a valid ID card for eligibility |
| Application Procedure | The app boasts a user-friendly and straightforward login process, making it accessible to individuals of varying tech-savviness. |
| Bad Credit Support | Not available, indicating that OKPeso primarily caters to individuals with a favorable credit history. |
| Handling Concerns | OKPeso is committed to addressing customer concerns and complaints, fostering a supportive and transparent customer service environment. |
| Efficiency Rating | This app receives a good efficiency rating, signifying a streamlined and effective loan application process. |
| APK Download | Users can conveniently download the APK of the OKPeso Loan App from here, making it accessible on various Android devices. |
What is OKPeso?
OKPeso is a user-friendly online loan application that doesn't necessitate collateral. It enables borrowers to download the mobile app, register, and secure loans without leaving the comfort of their homes. The loan approval process relies on the borrower's ID card and financial information. OKPeso offers loans ranging from ₱2,000 to ₱20,000 with repayment terms spanning from 96 to 365 days. The application is owned by Codeblock Lending Inc., a reputable financial institution registered with the SEC.
OKPeso Customer Service
For inquiries and complaints related to OKPeso, customers can reach out to Codeblock Lending Inc. using the following contact details:
Office Address: 11th Avenue Corner 39th Street Bonifacio Triangle, the Fort Global City, Metro Manila, Philippines.
Company Website: okpeso.com
Email Address: [email protected]
Contact Number (Hotline): +63 931 953 3595
Pros of OKPeso Online Loan
Upon reviewing the OKPeso loan app, it's evident that this application offers several advantages:
No collateral is required; lending decisions are based on the borrower's reputation.
The application process is simple, requiring only a National ID Card.
Borrowers can complete all procedures from home via a mobile phone or laptop.
Transparent information is available on the company's website, detailing loan terms, interest rates, and fees.
Quick approval times, with disbursements made within 2 to 24 hours after approval.
Cons of the OKPeso App
While OKPeso has its advantages, potential borrowers should be aware of some disadvantages:
Loan limits are lower than what traditional banks offer.
Borrowers may face higher interest rates compared to traditional banks.
Additional service fees may apply.
OKPeso Loan App Requirements
To access OKPeso loans, borrowers need to meet the following criteria:
Be a Filipino citizen with a valid ID card.
Age between 18 and 49 years old.
Possess a registered mobile phone number.
Have a stable monthly income.
OKPeso App Amount and Term
OKPeso allows borrowers to apply for loans ranging from ₱2,000 to ₱20,000. The loan term spans from a minimum of 96 days to a maximum of 365 days, providing flexibility for borrowers.
OKPeso Interest Rate
The interest rates offered by OKPeso are reasonable, with an annual rate of approximately 24%, equivalent to 0.065% per day.
Example of OKPeso Loan Calculation
For a better understanding, let's consider an example. If a borrower applies for an ₱18,000 OKPeso loan for 6 months:
Monthly principal payment: ₱18,000 / 6 = ₱3,000
Monthly interest payment: (₱18,000 x 24%) / 6 = ₱720
Total monthly payment: ₱3,000 + ₱720 = ₱3,720
Guide to Register OKPeso Safe Online Loan App Step-by-step
To register for an OKPeso loan, follow these steps:
Step #1: Download the OKPeso loan app from the App Store (IOS) or Play Store (Android).
Step #2: Register an account by providing your phone number and verifying with an SMS code.
Step #3: Fill in personal information, including name, gender, date of birth, address, religion, marital status, job, monthly income, and costs.
Step #4: Provide ID card information and images.
Step #5: Choose your loan amount, term, and payment channel before submitting your application.
OKPeso Loan App Review and Feedback
OKPeso is a reputable online loan app in the Philippines, registered with the SEC. It offers fast transaction processing and caters to the needs of Filipino workers, as evidenced by satisfied customer feedback.
Guide to OKPeso Loan Repayment
OKPeso offers multiple payment methods for the convenience of borrowers, including bank transfers, M Lhuillier, 7-Eleven, ECPAY, GCash, and Coins. Partial payments are accepted, and a small fee of ₱500 may apply for late payments.
Compare the OKPeso Loan App to other Apps
We have compared OKPeso with other loan applications based on various criteria, giving readers a useful reference point for their decision-making:
| Loan App | OKPeso loan app | Finbro | Pesoredee |
| --- | --- | --- | --- |
| Credit Limit | ₱2,000 – ₱20,000 | ₱1,000 – ₱50,000 | ₱1,000 – ₱20,000 |
| Term | 96 – 365 days | 1 – 12 months | 90 – 720 days |
| Age | 18 – 49 years old | 20 – 70 years old | 22 – 70 years old |
| Interest Rate | 24% per year | 2.5% – 4.6% per month | Up to 11.9% per month |
| Bad Credit Support | No | Yes | No |
| Approval Time | 15 minutes | 15 minutes | 20 minutes |
| Approval Rate | 80% | 80% | 85% |
| General Assessment | Good | Good | Good |
Did OKPeso make Harassment?
While some customers have reported harassment for late payments, it's essential to consider both sides of the issue. Late payment may necessitate debt recovery measures, which can affect customers' privacy. However, these measures are typically outlined in the contract, and harassment can be avoided by timely and full payment.
FAQs – Frequently Asked Questions about the OKPeso Loan App in the Philippines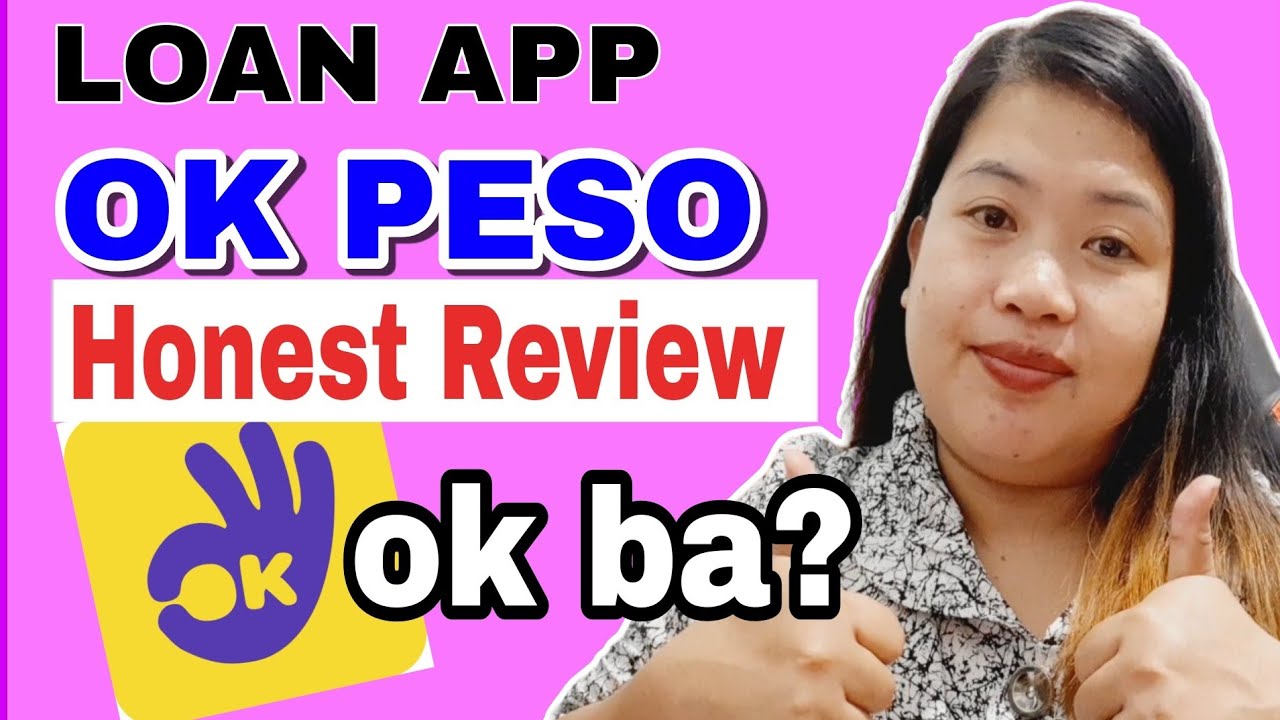 Addressing common queries about the OKPeso loan app:
Is OKPeso SEC registered?
Yes, OKPeso is registered with the Securities and Exchange Commission of the Philippines (SEC).
Is OKPeso loan app legit or not?
OKPeso is a legitimate online loan application, licensed to operate by the SEC and compliant with state regulations.
How to pay OKPeso using GCash?
Pay via GCash by selecting "Pay Bills" and entering the loan contract number. A 50-peso fee applies.
How to delete OKPeso account?
Contact OKPeso's support team, clear the remaining debt balance, and send an official account deletion request for confirmation.
Is OKPeso safe?
Yes, OKPeso has been licensed and approved by the SEC, making it a safe option for borrowing money in the Philippines.
Conclusion – Should you Apply to the OKPeso Loan App in the Philippines?
OKPeso loan app presents a reliable option for Filipinos seeking consumer loans, with loan amounts up to ₱20,000 available within 2 to 24 hours. This review aims to provide readers with valuable information to make informed decisions. If you have any questions, please feel free to leave a comment for us to address. Make your borrowing decisions wisely.
In a world where access to financial services is increasingly digital, OKPeso stands out as a convenient and transparent solution for those in need of financial assistance. With its simplicity and efficiency, it provides Filipinos with a viable alternative to traditional lending institutions, particularly when quick access to funds is essential.
Source: Okpeso.COM