The financial landscape in the Philippines has witnessed significant changes over the years, and there's an increasing need for access to cash and financial services. Traditional lenders, such as banks, have stringent requirements and often take longer to process loans. However, online loan apps such as Mr.Cash have emerged to fill the gap, offering fast and convenient access to cash. Mr.Cash is an online lending app dedicated to providing Filipinos with financial convenience and cash service.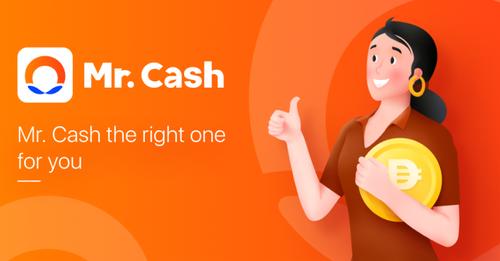 Product Details
Mr.Cash offers low-interest rates to Filipinos, making it an attractive option for people in need of quick cash. The app's loan amounts range from PHP 1,500.00 – PHP 23,000.00, and the loan term varies from 91-120 days, including renewal time. The monthly EIR ranges from 14.81-15%, with a maximum APR of 182.5%.
In addition to the interest rates, Mr.Cash charges a one-time service fee per transaction. The service fee ranges from a minimum of 10% to a maximum of 20%. For example, if a user borrows PHP 4,000.00 with a loan period of 91 days and a one-time service fee of 10% (deducted in advance), they will have to pay PHP 400 as the service fee and an interest rate of 20.5%. The total interest payment would be PHP 820.00, making the total payment PHP 4,820.00 (PHP 4,000.00 borrowed amount + PHP 820.00 interest rate).
How it Works
To use Mr.Cash, users need to download the app from Google Play and register by providing their identity information. After registration, users can choose the loan amount and term they want. Once the loan is approved, the cash is transferred directly to the user's bank account. If users repay their loans on time, they can increase their loan amount.
Why Choose Mr.Cash?
Simplified Operations and Processes: Mr.Cash offers a simple and streamlined loan procedure that is easy to navigate, even for first-time users.
Faster Review Speed: Mr.Cash has a faster review speed compared to traditional lenders, and users can receive their loan within a few hours of application.
High Approval Rate: Mr.Cash has a high approval rate for loan applications, making it an attractive option for people who may have been declined by traditional lenders.
Robust Information Security: Mr.Cash takes the security of user information seriously, and users can rest assured that their data is safe and secure.
Who Can Borrow?
To qualify for a loan with Mr.Cash, users must meet the following conditions:
Be a Philippine national
Be at least 18 years old
Have at least one primary ID (SSS/UMID/TIN/Driver License/Passport)
Be employed or self-employed
Company Details
Mr.Cash is owned by e-Generation Lending Corporation, a company registered with the SEC with company registration number 2021070020530-12. The company is authorized to operate as a lending company under certificate of authority number L-21-0036-70. The company's address is 17th Floor, The Orient Square Building Ortigas Avenue, Ortigas Center Pasig City, and the TIN is 600-784-760-00000. For customer service, users can reach out via email at [email protected] or call the hotline 09690678937.
Conclusion
When applying for a loan through Mr.Cash loan app, there are some important details to keep in mind to ensure a smooth application process and timely loan disbursement.
Firstly, ensure that you are eligible for the loan. Mr.Cash requires that applicants be over 18 years old, Filipino citizens, and have at least one valid government-issued ID, such as an SSS, UMID, TIN, Driver License, or Passport. You also need to have a job or be self-employed to qualify for a loan.
Once you have verified your eligibility, download the Mr.Cash app from the Google Play Store and register your account. During the registration process, you will need to provide your personal information, such as your name, address, and contact details. It is important to ensure that the information you provide is accurate and up-to-date to avoid delays or complications with your loan application.
After registering, you can apply for a loan by choosing the loan amount and loan term that suits your needs. The loan amount can range from ₱1,500.00 to ₱23,000.00, and the loan term can range from 91 days to 120 days, including renewal time. Note that the interest rate and service fee will vary depending on the loan amount and term you choose.
Before submitting your loan application, make sure to review the loan details and fees carefully. Mr.Cash charges a one-time service fee per transaction, ranging from a minimum of 10% to a maximum of 20%. Additionally, the monthly EIR ranges from 14.81% to 15%, and the maximum APR is 182.5%. Understanding these fees and charges will help you make an informed decision about your loan and avoid any surprises or hidden costs.
After submitting your application, Mr.Cash will review your application and provide a decision within a few hours. If your loan is approved, the funds will be disbursed directly to your bank account within 24 hours. To increase your loan amount, you can repay your loan on time and maintain a good repayment record.
In summary, Mr.Cash is a reputable and reliable online lending app in the Philippines that offers low-interest loans to individuals who need cash urgently. With its simplified loan process, faster review speed, high approval rate, and data security measures, Mr.Cash has become a go-to financial partner for many Filipinos. By providing accessible and affordable loan products, Mr.Cash aims to improve financial inclusion and empower more people to achieve their financial goals. If you are looking for a fast, convenient, and secure way to get cash, Mr.Cash is definitely worth exploring.